Return to Naval Historical Center home page.
Return to Online Library listing
DEPARTMENT OF THE NAVY -- NAVAL HISTORICAL CENTER
901 M STREET SE -- WASHINGTON NAVY YARD
WASHINGTON DC 20374-5060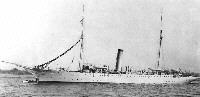 Online Library of Selected Images:
-- U.S. NAVY SHIPS --
USS Mayflower (1898-1931, later PY-1)
USS Mayflower, a 2690-ton yacht, was built for private use at Clyde Bank, Scotland, in 1896. She was acquired by the Navy in preparation for the Spanish-American War, and was commissioned in March 1898. She served off Cuba during that conflict, and participated in an engagement off Havana on 14 May.
Following the war, Mayflower served as a headquarters and flag ship in Atlantic and Caribbean waters. In 1904, she was converted to the Presidential yacht, and performed this role until decommissioned in March 1929. She was sold in October 1931, and became a private yacht. During World War II, Mayflower was employed as a U.S. Coast Guard cutter.
This page features a 1898 view of USS Mayflower.
If higher resolution reproductions than these digital images are desired, see "How to Obtain Photographic Reproductions."
Click on the small photograph to prompt a larger view of the same image.
Photo #: NH 60646

USS Mayflower (1898-1931)

Photographed in 1898.

U.S. Naval Historical Center Photograph.

Online Image: 46,251 bytes; 740 x 395 pixels
Return to Naval Historical Center home page.
5 October 1998