Return to Naval Historical Center home page.
Return to Online Library listing
DEPARTMENT OF THE NAVY -- NAVAL HISTORICAL CENTER
901 M STREET SE -- WASHINGTON NAVY YARD
WASHINGTON DC 20374-5060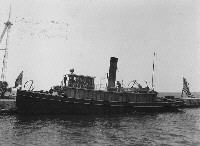 Online Library of Selected Images:
-- U.S. NAVY SHIPS --
USS Powhatan (1898-1928), later renamed Cayuga (YT-12)

USS Powhatan, a 194-ton tug, was built in 1892 at Baltimore, Maryland, for commercial use. Purchased by the Navy in April 1898, she was active along the Gulf coast during the Spanish-American War. After that conflict, she mainly served as a harbor tug at the New York Navy Yard. Renamed Cayuga in 1917, and designated YT-12 a few years later, she was decommissioned in April 1928 and scrapped the following June.

This page features a view of USS Powhatan.

If higher resolution reproductions than these digital images are desired, see "How to Obtain Photographic Reproductions."

Click on the small photograph to prompt a larger view of the same image.
Photo #: NH 43694

USS Powhatan (1898-1928)

Photographed circa 1898-99 or the early 1900s.
This tug was renamed Cayuga in 1917.

U.S. Naval Historical Center Photograph.

Online Image: 53,994 bytes; 740 x 575 pixels
Return to Naval Historical Center home page.
11 October 1998