Return to Naval Historical Center home page.
Return to Online Library listing
DEPARTMENT OF THE NAVY -- NAVAL HISTORICAL CENTER
901 M STREET SE -- WASHINGTON NAVY YARD
WASHINGTON DC 20374-5060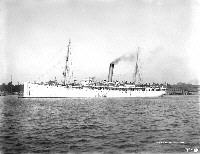 Online Library of Selected Images:
-- U.S. NAVY SHIPS --
USS Solace (1898-1930, later AH-2)
USS Solace, a 5700-ton hospital ship, was built as the merchant steamer Creole in 1897 at Newport News, Virginia. Acquired by the Navy in April 1898, she carried sick and wounded servicemen from Cuba to the United States during the Spanish-American War.

In 1899, Solace steamed to Europe and continued eastward through Asiatic waters to San Francisco Bay. She remained in the Pacific, mainly as a transport, until 1908, when she was ordered to the Atlantic. Solace was an Atlantic Fleet Hospital Ship from 1909 until decommissioned in July 1921. Designated AH-2 in 1920, the ship was retained in reserve until 1930, when she was sold for scrapping.

This page features a view of USS Solace.

If higher resolution reproductions than these digital images are desired, see "How to Obtain Photographic Reproductions."

Click on the small photograph to prompt a larger view of the same image.
Photo #: NH 43624

USS Solace (1898-1930)

Off the Mare Island Navy Yard, 1 July 1899.

Collection of Rear Admiral Ammen Farenholt, USN(MC).

U.S. Naval Historical Center Photograph.

Online Image: 67,203 bytes; 740 x 605 pixels
Return to Naval Historical Center home page.
15 October 1998