Return to Naval Historical Center home page.

Return to Online Library listing


DEPARTMENT OF THE NAVY -- NAVAL HISTORICAL CENTER
805 KIDDER BREESE SE -- WASHINGTON NAVY YARD
WASHINGTON DC 20374-5060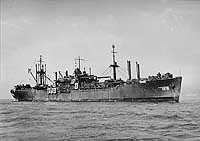 Online Library of Selected Images:
-- U.S. NAVY SHIPS --
USS St. Mary's (APA-126), 1944-1975

USS St. Mary's, one of 117 Haskell-class attack transports, was built to a modified Victory ship design at Wilmington, California, and was commissioned in November 1944. After shakedown, she left the West Coast in January 1945 with cargo for Manus in the Admiralty Islands. She delivered troops from New Guinea to Leyte in early February and then joined the force training there for the invasion of Okinawa. St. Mary's arrived off Kerama Retto, near Okinawa, in late March and landed some of her troops there. She operated off Okinawa for the next month, participating in a diversionary landing in mid-April and landing the remainder of her troops and cargo near the end of the month. Following three weeks at Ulithi, she moved to Guam to exchange landing boats, returning to the Philippines at the end of May to train with other units for the invasion of Japan.
Once the Japan government had decided surrender, St. Mary's embarked occupation troops in the Philippines and, in early September 1945, delivered them to Yokohama. After carrying another load of occupation troops from the Philippines to Japan, she transported returning veterans from Okinawa to the West Coast under Operation "Magic Carpet." In December she returned to Okinawa for a second group of returning servicemen, but developed engine trouble in early January 1946 when she was 450 miles from her destination. St. Mary's was taken in tow by the cruiser Nashville and arrived in San Francisco three days later. In February 1946 she was decommissioned, stricken from the Navy List, and delivered to the Maritime Commission for retention in its reserve fleet. She was sold for scrapping in April 1975.
This page features our only view of USS St. Mary's (APA-126).
Click on the small photograph to prompt a larger view of the same image.
Photo #: NH 98747

USS St. Mary's (APA-126)

In San Francisco Bay, California, in late 1945 or early 1946.
She is returning troops from the Western Pacific to the United States as part of Operation "Magic Carpet".
Note the long homeward bound pennant trailing from her after mast, and the sign on shore (in the right distance) stating "Welcome Home, Well Done".

Donation of Boatswain's Mate First Class Robert G. Tippins, USN (Retired), 2003.

U.S. Naval Historical Center Photograph.

Online Image: 74KB; 740 x 545 pixels

Return to Naval Historical Center home page.
Page made 20 December 2003