Return to Naval Historical Center home page.

Return to Online Library listing


DEPARTMENT OF THE NAVY -- NAVAL HISTORICAL CENTER
805 KIDDER BREESE SE -- WASHINGTON NAVY YARD
WASHINGTON DC 20374-5060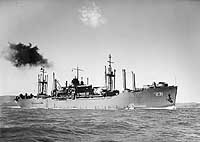 Online Library of Selected Images:
-- U.S. NAVY SHIPS --
USS Saint Croix (APA-231), 1944-1979

USS Saint Croix, one of 117 Haskell-class attack transports, was built to a modified Victory ship design at Vancouver, Washington, and was commissioned in December 1944. After shakedown, she left the West Coast in January 1945 for the Southwest Pacific where, in February and March, she carried troops and equipment between Guadalcanal and Florida Island. Saint Croix arrived in New Caledonia at the end of March, and in May transported Army troops from there to Leyte to conduct mop-up operations in the Philippines. In June, July, and August she made three trips bringing additional Soldiers to the Philippines from New Guinea.
In September 1945, after the Japanese surrender, Saint Croix embarked occupation troops in the Philippines and delivered them to Yokohama, Japan. The following month she picked up Marines at Guam and took them to Tsingtao, China. Moving to Indochina, Saint Croix lifted Chinese troops to Formosa in November. She then returned to Manila to embark returning veterans under Operation "Magic Carpet", taking them to San Francisco in December. In February 1946 Saint Croix sailed from the West Coast and served as an advance station ship during Operation "Crossroads," which culminated in two atomic bomb tests at Bikini during July. Returning to the West Coast in August, she made one more voyage to Pearl Harbor in January 1947. In April 1947 she was decommissioned, stricken from the Navy List, and delivered to the Maritime Commission for retention in its reserve fleet. Saint Croix was sold for scrapping in November 1979.
This page features all our views of USS Saint Croix (APA-231).
Click on the small photograph to prompt a larger view of the same image.
Photo #: NH 98746

USS Saint Croix (APA-231)

In San Francisco Bay, California, in late 1945 or early 1946.

Donation of Boatswain's Mate First Class Robert G. Tippins, USN (Retired), 2003.

U.S. Naval Historical Center Photograph.

Online Image: 64KB; 740 x 550 pixels

Photo #: NH 99011

USS Saint Croix (APA-231)

Photographed circa 1946.

Official U.S. Navy Photograph, from the collections of the Naval Historical Center.

Online Image: 65KB; 740 x 625 pixels

Return to Naval Historical Center home page.
Page made 20 December 2003