Return to Naval Historical Center home page.

Return to Online Library listing


DEPARTMENT OF THE NAVY -- NAVAL HISTORICAL CENTER
805 KIDDER BREESE SE -- WASHINGTON NAVY YARD
WASHINGTON DC 20374-5060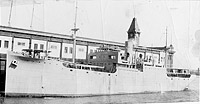 Online Library of Selected Images:
-- U.S. NAVY SHIPS --
USS Saetia (ID # 2317), 1918-1918.
Originally S.S. Saetia (American Freighter, 1918).
Saetia, a 2873 gross ton (6375 tons displacement) freighter, was completed at Wilmington, Delaware, in March 1918 and placed in commission by the Navy on the First of that month as USS Saetia (ID # 2317). After modifications, including the installation of guns, she loaded an Army cargo of quartermaster's supplies and joined a trans-Atlantic convoy at New York. Arriving with the convoy at Brest, France, at the end of March, the ship moved to Rochefort, France, to offload her cargo and returned to Philadelphia, Pennsylvania, in early May. Between May and November Saetia made three similar voyages to France, delivering the first cargo at Quiberon, the second in the Gironde River, and the third at Bordeaux, France. Near the end of the last of these voyages, while approaching the Delaware River en route to Philadelphia on 9 November 1918, Saetia struck a mine, probably laid by the German submarine U-117, in the vicinity of the Fenwick Island Lightship and sank in 20 fathoms of water. The entire crew took to lifeboats and was saved, although 13 men were injured.
This page features the only view we have concerning S.S. Saetia and USS Saetia (ID # 2317).
Click on the small photograph to prompt a larger view of the same image.
Photo #: NH 105260

S.S. Saetia (American freighter, 1918)

This ship was completed at Wilmington, Del., on 1 March 1918 and immediately commissioned in the Navy as USS Saetia (ID # 2317). This photo may have been taken when the ship was inspected by the Fourth Naval District a few weeks earlier, on 8 February 1918, following her allocation to the Navy for manning and operation. Saetia was sunk by a mine off the Maryland coast on 9 November 1918.

U.S. Naval Historical Center Photograph.

Online Image: 59KB; 740 x 410 pixels

Return to Naval Historical Center home page.
Page made 12 December 2007