Return to Naval Historical Center home page.

Return to Online Library listing

DEPARTMENT OF THE NAVY -- NAVAL HISTORICAL CENTER
805 KIDDER BREESE SE -- WASHINGTON NAVY YARD
WASHINGTON DC 20374-5060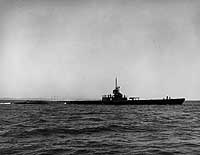 Online Library of Selected Images:
-- U.S. NAVY SHIPS --
USS Scamp (SS-277), 1942-1944
USS Scamp, a 1525-ton Gato class submarine built at the Portsmouth Navy Yard, Kittery, Maine, was commissioned in mid-September 1942. Early the next year she went to the Pacific to join the war against Japan, beginning her first war patrol in March 1943. Suffering from the then all too common torpedo problems, she sank no ships on this cruise, though two were damaged. A second patrol, through the Central Pacific in April-June, cost the enemy the seaplane tender Kamikawa Maru and ended at Brisbane, Australia, which would be Scamp's base for the rest of 1943. During that time she finished three more war patrols and began another, all into the Bismarck Sea area, sinking a Japanese submarine in July, a cargo ship in September and another in November. She also badly damaged the light cruiser Agano.
In January 1944, during her sixth war patrol, Scamp torpedoed and sank a large tanker. Following a quick refit at Milne Bay, New Guinea, she went to the area between New Guinea and the southern Philippines for another combat cruise. This one nearly ended her career, as on 7 April she was near-missed by a bomb that caused serious shock damage, started fires and temporarily caused loss of power and depth control. After a very tense time for her crew, Scamp was able to leave the area and proceed to an advanced base for emergency repairs. The submarine then went back to the U.S. for a major overhaul. She was ordered to the waters east of Japan for her eighth patrol, leaving Pearl Harbor in mid-October 1944, and was last heard from on 9 November. Postwar Japanese records indicate that Scamp may have been sunk by air and escort ship attacks on 11 November, but it is also possible that she hit a mine. More than eighty officers and men were lost with her.
This page features all the views we have related to USS Scamp (SS-277).
Click on the small photograph to prompt a larger view of the same image.
Photo #: 80-G-63898

USS Scamp (SS-277)

In Pearl Harbor, Oahu, 1943-1944.
Ford Island is in the background.

Official U.S. Navy Photograph, now in the collections of the National Archives.

Online Image: 65KB; 740 x 605 pixels

Reproductions of this image may also be available through the National Archives photographic reproduction system.

Photo #: NH 98379

USS Scamp (SS-277)

Underway, circa 1943-1944.

Official U.S. Navy Photograph, from the collections of the Naval Historical Center.

Online Image: 77KB; 740 x 600 pixels

Return to Naval Historical Center home page.
Page made 15 March 2003