Return to Naval Historical Center home page.

Return to Online Library listing

DEPARTMENT OF THE NAVY -- NAVAL HISTORICAL CENTER
805 KIDDER BREESE SE -- WASHINGTON NAVY YARD
WASHINGTON DC 20374-5060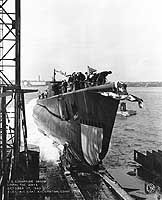 Online Library of Selected Images:
-- U.S. NAVY SHIPS --
USS Shark (SS-314), 1944-1944
USS Shark, a 1526-ton Balao class submarine built at Groton, Connecticut, was commissioned in mid-February 1944. She arrived at Pearl Harbor, Hawaii, in April and began her first combat operation in May. Operating west of the Marianas as part of a three-submarine attack group, she sank one Japanese freighter on 2 June, another on the 4th and two more on the 5th. This very productive patrol, which ended in mid-June, prevented the enemy from landing additional army units and thus greatly facilitated the capture of Saipan and Guam.
Shark's second war patrol, off the Volcano and Bonin Islands in July and August, produced no sinkings but did result in the rescue of two Navy airmen from a downed torpedo plane. Her third patrol, to the waters south of Formosa, was another three-submarine "wolf pack" operation. Shark left Pearl Harbor in September and, on 24 October 1944, is believed to have sunk a Japanese ship carrying American prisoners of war from the Philipines to Japan. She was not heard from again and may been lost to enemy antisubmarine attack on the same day, possibly while attempting to rescue some of the POWs. Shark's entire complement, nearly ninety officers and men, perished with her.
This page features the only view we have related to USS Shark (SS-314).
Click on the small photograph to prompt a larger view of the same image.
Photo #: 80-G-88704

USS Shark (SS-314)

Slides down the ways, during her launching at the Electric Boat Company shipyard, Groton, Connecticut, 17 October 1943.
Taken by an Electric Boat Company photographer.

Official U.S. Navy Photograph, now in the collections of the National Archives.

Online Image: 96KB; 600 x 765 pixels

Reproductions of this image may also be available through the National Archives photographic reproduction system.

Return to Naval Historical Center home page.
Page made 30 March 2003