Return to Naval Historical Center home page.

Return to Online Library listing

DEPARTMENT OF THE NAVY -- NAVAL HISTORICAL CENTER
805 KIDDER BREESE SE -- WASHINGTON NAVY YARD
WASHINGTON DC 20374-5060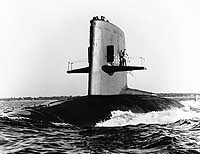 Online Library of Selected Images:
-- U.S. NAVY SHIPS --
USS Scorpion (SSN-589), 1960-1968.
USS Scorpion, a 3500-ton Skipjack class nuclear-powered attack submarine built at Groton, Connecticut, was commissioned in July 1960. Assigned to the Atlantic Fleet, she took part in the development of contemporary submarine warfare tactics and made periodic deployments to the Mediterranean Sea and other areas where the presence of a fast and stealthy submarine would be beneficial.
Scorpion began another Mediterranean cruise in February 1968. The following May, while homeward bound from that tour, she was lost with her entire crew some 400 miles southwest of the Azores. In late October 1968, her remains were found on the sea floor over 10,000 feet below the surface by a towed deep-submergence vehicle deployed from USNS Mizar (T-AGOR-11). Photographs taken then and later showed that her hull had suffered fatal damage while she was running submerged and that even more severe damage occurred as she sank. The cause of the initial damage continues to generate controversy more than three decades later.
This page features or provides links to all our views of USS Scorpion.
For additional pictorial coverage of USS Scorpion, see: