Return to Naval Historical Center home page.
Return to Online Library listing
DEPARTMENT OF THE NAVY -- NAVAL HISTORICAL CENTER
901 M STREET SE -- WASHINGTON NAVY YARD
WASHINGTON DC 20374-5060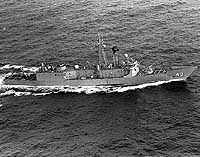 Online Library of Selected Images:
-- U.S. NAVY SHIPS --
USS Thach (FFG-43), 1984-____
USS Thach, a 4100-ton Oliver Hazard Perry class guided missile frigate, was built at San Pedro, California. Commissioned in March 1984, she has subsequently served in the Pacific. During the 1980s, while homeported on the U.S. West Coast, she regularly deployed to Asiatic waters, the Indian Ocean and Persian Gulf. On 8 October 1987, Thach was involved in combat action between U.S. helicopters and Iranian small craft. Beginning in 1991, her homeport has been Yokosuka, Japan, ensuring her full-time availability for operations in the Western Pacific and Persian Gulf.
USS Thach (FFG-43) was named in honor of the distinguished Naval Aviator Admiral John Smith Thach (1905-1981).
This page features a view of USS Thach.
If you want higher resolution reproductions than this digital image, see: "How to Obtain Photographic Reproductions."
Click on the small photograph to prompt a larger view of the same image.
Photo #: NH 96874

USS Thach (FFG-43)

Underway, with an SH-60B helicopter on her landing platform, circa the later 1980s or the 1990s.


Naval Historical Center Photograph.

Online Image: 161KB; 740 x 605 pixels
Return to Naval Historical Center home page.
30 May 1999