Return to Naval Historical Center home page.

Return to Online Library listing

DEPARTMENT OF THE NAVY -- NAVAL HISTORICAL CENTER
805 KIDDER BREESE SE -- WASHINGTON NAVY YARD
WASHINGTON DC 20374-5060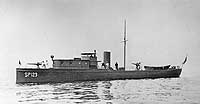 Online Library of Selected Images:
-- U.S. NAVY SHIPS --
USS Taniwha (SP-129), 1917-1919.
Originally the Civilian Motor Yacht Taniwha (1909)
Taniwha, a 112-foot section patrol craft, was built in 1909 at Neponset, Massachusetts, for use as a pleasure craft. She was leased by the Navy for World War I service and commissioned in May 1917. For the next two years Taniwha was employed in the vicinity of New York City. She was decommissioned in April 1919 and returned to her owner.
This page features all the views we have related to USS Taniwha (SP-129).
Click on the small photograph to prompt a larger view of the same image.
Photo #: NH 102254

USS Taniwha (SP-129)

Photographed during her World War I era Navy service.
Built in 1909 by George Lawley and Sons, the motor yacht Taniwha was leased by the Navy and placed in commission on 14 May 1917. She was reported as returned to her owner on 4 April 1919, with another report indicating that the return took place in about early June of that year.

The original print is in National Archives' Record Group 19-LCM.

U.S. Naval Historical Center Photograph.

Online Image: 37KB; 740 x 410 pixels
Note: The Ships' Histories Branch of the Naval Historical Center holds two other photos of the motor yacht Taniwha, taken prior to her Navy service.
One image was taken from off the craft's starboard side while she was in a harbor with embarkation ladder down and awnings rigged. The other view, from off her port side, shows her underway a low speed, with a wooded shoreline beyond.
The original prints are mounted on the "SP" data card for Taniwha (SP-129).

Return to Naval Historical Center home page.
Page made 31 October 2003