Return to Naval Historical Center home page.

Return to Online Library listing

DEPARTMENT OF THE NAVY -- NAVAL HISTORICAL CENTER
805 KIDDER BREESE SE -- WASHINGTON NAVY YARD
WASHINGTON DC 20374-5060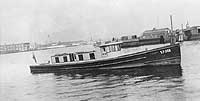 Online Library of Selected Images:
-- U.S. NAVY SHIPS --
USS Teaser (SP-933), 1917-1918.
Originally the civilian motor boat Teaser (1916)
USS Teaser, a 60-foot section patrol craft, was built in 1916 at at West Norfolk, Virginia, as the civilian workboat Teaser. Acquired by the Navy and placed in commission in November 1917, she performed World War I service in the Norfolk and Hampton Roads area. Teaser was destroyed by fire on 27 December 1918, and her name was stricken from the Navy list in February 1919.
This page features the only views we have related to USS Teaser (SP-933) and the civilian motor boat of that name.
Click on the small photograph to prompt a larger view of the same image.
Photo #: NH 102257

USS Teaser (SP-933)

In the Elizabeth River, Virginia, off the Norfolk Navy Yard, circa 1917-1918.
Built as the civilian motor boat Teaser in 1916, this craft was placed in commission by the Navy on 29 November 1917. She caught fire and sank on 27 December 1918 and was stricken from the list of Naval vessels on 15 February 1919.

The original print is in National Archives' Record Group 19-LCM.

U.S. Naval Historical Center Photograph.

Online Image: 53KB; 740 x 400 pixels
Note: The Ships' Histories Branch of the Naval Historical Center holds one other photo of the motor boat Teaser, taken prior to her Navy service. The view shows her from off the starboard bow (rather more starboard than bow). She is underway at good speed, with fenders over her side and bow and a U.S. flag flying from the after end of her cabin. Her hull is dark (perhaps black) with lighter rubbing strakes and superstructure. This rather attractive little image is unfortunately disfigured by writing on its right side that extends over the boat's forward few feet.
The original print are mounted on the "SP" data card for Teaser (SP-933).

Return to Naval Historical Center home page.
Page made 4 November 2003