Return to Naval Historical Center home page.

Return to Online Library listing

DEPARTMENT OF THE NAVY -- NAVAL HISTORICAL CENTER
805 KIDDER BREESE SE -- WASHINGTON NAVY YARD
WASHINGTON DC 20374-5060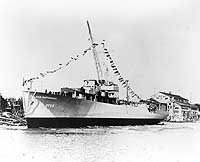 Online Library of Selected Images:
-- U.S. NAVY SHIPS --
USS Uniontown (PF-65), 1944-1946.
Name changed from Chattanooga before completion
USS Uniontown, a 1430-ton (standard displacement) Tacoma class frigate, was built at Sturgeon Bay, Wisconsin. She was launched in August 1943 under the name Chattanooga, but was renamed Uniontown a year later, while completing outfitting at New Orleans, Louisiana. Commissioned on 6 October 1944 (some credible sources give the date as 15 September), with a crew provided by the U.S. Coast Guard, she began escort duty near the end of the year. Between then and Germany's surrender in May 1945, Uniontown made three round-trip convoy escort voyages across the Atlantic. In June she was converted to a weather ship, and performed ocean weather patrol service during July-October 1945. Decommissioned in December 1945, USS Uniontown was stricken from the list of Navy ships in January 1946. She was sold to Argentina in June 1946 (or July 1947, depending on source). Renamed Sarandi, the frigate served in that Nation's navy until 1968.
This page features the only view we have concerning USS Uniontown (PF-65), which was originally named Chattanooga.
Click on the small photograph to prompt a larger view of the same image.
Photo #: NH 79078

USS Chattanooga (PF-65)

Launching, at the Leathem B. Smith Shipbuilding Company yard, Sturgeon Bay, Wisconsin, 7 August 1943.
This ship was renamed Uniontown in August 1944, about a month before she was commissioned.

Courtesy of Donald M. McPherson, 1974.

U.S. Naval Historical Center Photograph.

Online Image: 67KB; 740 x 625 pixels

Return to Naval Historical Center home page.
Page made 27 November 2005