Return to Naval Historical Center home page.

Return to Online Library listing

DEPARTMENT OF THE NAVY -- NAVAL HISTORICAL CENTER
805 KIDDER BREESE SE -- WASHINGTON NAVY YARD
WASHINGTON DC 20374-5060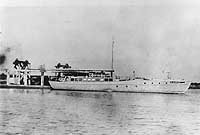 Online Library of Selected Images:
-- U.S. NAVY SHIPS --
USS Vision (SP-1114), 1917-1918.
Originally the Civilian Motor Boat Vision (1910)
USS Vision, a 67 ½ foot motor boat, was built at Harrisburg, Texas, in 1910 for use as a pleasure craft. The boat was obtained by the Navy under lease in August 1917 and placed in commission at that time. She performed patrol service along the Texas coast for the rest of World War I. Vision was decommissioned and returned to her owner in mid-December 1918.
This page features our only views of USS Vision (SP-1114), which was originally the civilian motor boat Vision.
Click on the small photograph to prompt a larger view of the same image.
Photo #: NH 102362

USS Vision (SP-1114)

In port, circa 1917-1918.
Built in 1910, the motor pleasure boat Vision was acquired by the Navy and commissioned on 27 August 1917. She was returned to her owner on 19 December 1918.

The original print is in National Archives' Record Group 19-LCM.

U.S. Naval Historical Center Photograph.

Online Image: 68KB; 740 x 525 pixels
Note: The Ships' Histories Branch of the Naval Historical Center holds a pre-World War I view of the motor boat Vision, taken from off her starboard broadside while she was tied up near shore. The boat's bow and stern are cropped out of this image, which shows her with a white hull and darker upperworks. Awnings are rigged over her deck amidships and aft.
This photograph is mounted on the "SP" data card for Vision (SP-1114).

Return to Naval Historical Center home page.
Page made 8 February 2004