Return to Naval Historical Center home page.
Return to Online Library listing
DEPARTMENT OF THE NAVY -- NAVAL HISTORICAL CENTER
901 M STREET SE -- WASHINGTON NAVY YARD
WASHINGTON DC 20374-5060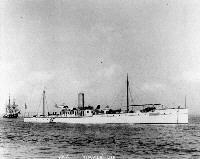 Online Library of Selected Images:
-- U.S. NAVY SHIPS --
USS Vesuvius (1890-1922)
USS Vesuvius, a 930-ton "dynamite gun cruiser" built at Philadelphia, Pennsylvania, was commissioned in June 1890. Her armament was unique, consisting of three 15" pneumatic guns that fired special high explosive projectiles. She served along the U.S. east coast during her early years. In the Spanish-American War, Vesuvius was employed off Cuba, using her heavy guns to bombard Santiago. In 1904, she was converted to a torpedo test ship and spent the remainder of her career at Newport, Rhode Island. Vesuvius was decommissioned in October 1921 and sold for scrap in April 1922.
This page features a selected view of USS Vesuvius.
If higher resolution reproductions than these digital images are desired, see "How to Obtain Photographic Reproductions."
Click on the small photograph to prompt a larger view of the same image.
Photo #: NH 69211

USS Vesuvius (1890-1922)

Photographed circa the early 1890s. The muzzles of her three pneumatic "dynamite" guns are visible below her foremast boom.

U.S. Naval Historical Center Photograph.

Online Image: 71,336 bytes; 740 x 625 pixels
Return to Naval Historical Center home page.
13 October 1998