Return to Naval Historical Center home page.
Return to Online Library listing
DEPARTMENT OF THE NAVY -- NAVAL HISTORICAL CENTER
901 M STREET SE -- WASHINGTON NAVY YARD
WASHINGTON DC 20374-5060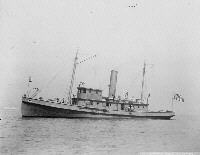 Online Library of Selected Images:
-- U.S. NAVY SHIPS --
USS Vigilant (1898-1928, later YT-25)
USS Vigilant, a 300-ton tug, was built at Philadelphia, Pennsylvania, in 1888 for commercial use. Purchased by the Navy in April 1898, she spent her entire service career in the vicinity of San Francisco, California. Vigilant was designated YT-25 in 1920. She was struck from the Navy List in November 1927 and sold in April 1928.

This page features a photograph of USS Vigilant.

If higher resolution reproductions than these digital images are desired, see "How to Obtain Photographic Reproductions."

Click on the small photograph to prompt a larger view of the same image.
Photo #: NH 43695

USS Vigilant (1898-1928)

Off the Mare Island Navy Yard, 26 July 1898.
Note variety of guns she carried for Spanish-American War service: two 37mm revolving cannon at the bow, a Gatling gun atop the pilothouse, and a short 3-inch cannon at the stern.

U.S. Naval Historical Center Photograph.

Online Image: 48,464 bytes; 740 x 610 pixels
Return to Naval Historical Center home page.
13 October 1998