Return to Naval Historical Center home page.

Return to Online Library listing


DEPARTMENT OF THE NAVY -- NAVAL HISTORICAL CENTER
805 KIDDER BREESE SE -- WASHINGTON NAVY YARD
WASHINGTON DC 20374-5060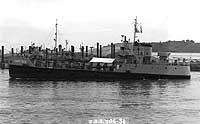 Online Library of Selected Images:
-- U.S. NAVY SHIPS --
YOG-56 (1945-1972)
YOG-56, a 174-foot self-propelled gasoline barge, was built at Camden, New Jersey, during World War II. She was placed in service in February 1945. At the end of June 1972 YOG-56 was transferred to the Republic of Vietnam and was stricken from the Naval Vessel Register in mid-July. Renamed HQ-475 while in South Vietnamese Navy service, she was captured when North Vietnam conquered its southern neighbor in April 1975. She was reportedly still active in 2001.
This page features the only view we have concerning YOG-56.
Click on the small photograph to prompt a larger view of the same image.
Photo #: NH 103141

U.S. Navy Gasoline Barge YOG-56

Underway in harbor, circa the 1950s.
The original image was printed on postal card stock.

Donation of Dr. Mark Kulikowski, 2005.

U.S. Naval Historical Center Photograph.

Online Image: 61KB; 740 x 485 pixels

Return to Naval Historical Center home page.
Page made 28 February 2006