Return to Naval Historical Center home page.

Return to Online Library listing


DEPARTMENT OF THE NAVY -- NAVAL HISTORICAL CENTER
805 KIDDER BREESE SE -- WASHINGTON NAVY YARD
WASHINGTON DC 20374-5060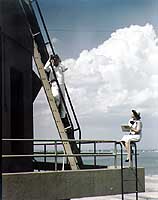 Online Library of Selected Images --
Search Engines
The Online Library is designed to be both "browseable" (using its internal organizational scheme) and "searchable" (using a search engine). This provides maximum flexibility and convenience in accessing individual subjects and images within the necessarily large and complex Online Library structure. The use of a search engine also allows pictures to be located for subjects that are not yet included in the Online Library's organization, and permits the location of wider coverage of some subjects for which only selected views are featured in the existing presentations.
A greatly improved search engine has recently been added to the Naval Historical Center's Internet site, and our experience with it indicates that it should produce excellent results. To access this search engine, click on this link: NHC Search Engine.
You can also use major commercial search engines. Though these will usually generate many "hits" that are outside the Naval Historical Center's Internet site, we have found that the best of these external search engines are reasonably good (though hardly perfect) at finding Online Library items, and that the relevant pages are generally listed among the first ten or twenty items in the search engines' reports. While U.S. Government policy prevents us from recommending, or linking to, any particular external search engine, we anticipate that all but the most inexperienced Internet users will have no difficulty in finding a satisfactory search engine among the many available in the ".com" universe.

Return to Naval Historical Center home page.
Page made 3 August 2002
Text and links updated 3 January 2004