Return to Naval History and Heritage Command home page.

Return to Online Library listing


DEPARTMENT OF THE NAVY -- NAVAL HISTORY AND HERITAGE COMMAND
805 KIDDER BREESE SE -- WASHINGTON NAVY YARD
WASHINGTON DC 20374-5060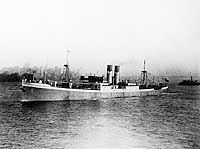 Online Library of Selected Images:
-- U.S. NAVY SHIP TYPES --
WORLD WAR I ERA CARGO SHIPS --
with TWO SMOKESTACKS
Three of the U.S. Navy's WWI era cargo ships had two smokestacks. All were foreign built and had two masts.
Note: In addition to her two smokestacks, the former British merchantman Howick Hall had a rather unusual upper hull configuration, with two islands amidships and a short well aft. Some of these ships also had kingpost pairs in addition to their masts.
Other Recognition Features and Later Modifications: The two ex-German ships, Camden and Kittery, saw long post-war service. As acquired, both had relatively long wells forward. Kittery could be distinguished by extensive deck houses amidships and aft. Camden was converted to a submarine tender in 1918-1919, emerging with a massively altered hull configuration. During the mid-1920s a single smokestack replaced her original pair.
This page features a table (with links to individual ships) of World War I era U.S. Navy cargo ships with two smokestacks, plus a photograph of each ship in this group.
Ships in this group:
THREE SHIPS with TWO SMOKESTACKS (Funnels):
Click each ship name to access that ship's complete Online Library entry.
Click the small photographs to prompt a larger view of the same image, and the words "Picture Data" to access the Picture Data Sheet for that image.
THREE SHIPS -- Foreign built

Camden, USN 1917-1946 (German built, ex German S.S. Kiel, 1900).

4494 Gross Tons; Length 388'; Breadth 48'.

Note: This ship had a small kingpost pair forward of her bridge.

USS Camden became a tender after serving as a Navy cargo ship for a few months.

The Navy later built up her hull and refitted her with a single smokestack.


Howick Hall, USN 1918-1919 (British built, ex British S.S. Howick Hall, 1910).

5096 Gross Tons; Length 400.7'; Breadth 51.4'.

Note: This ship had an odd deck line, and a small kingpost pair aft of her bridge.

Kittery, USN 1917-1933 (German built, ex German S.S. Praesident, 1905).

1849 Gross Tons; Length 282.2'; Breadth 40.5'.

Note: This ship had extensive deck houses amidships and aft.




NOTES:


To the best of our knowledge, the pictures referenced here are all in the Public Domain, and can therefore be freely downloaded and used for any purpose.


Some images linked from this page bear obsolete credit lines citing the organization name: "Naval Historical Center". Effective 1 December 2008 the name should be cited as: "Naval History and Heritage Command".







Return to Naval History and Heritage Command home page.
Page made 23 December 2007
Text edited and coding updated 22 September 2009