Return to Naval Historical Center home page.

Return to Online Library listing


DEPARTMENT OF THE NAVY -- NAVAL HISTORICAL CENTER
805 KIDDER BREESE SE -- WASHINGTON NAVY YARD
WASHINGTON DC 20374-5060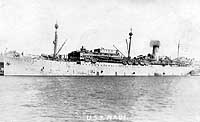 Online Library of Selected Images:
-- U.S. NAVY SHIP TYPES --
WORLD WAR I ERA TRANSPORTS --
with One Smokestack (aft) and Three Masts
Three of the U.S. Navy's WWI era transports had three masts and one smokestack, with the latter located well aft of amidships. Owned by the Matson Line, they had operated in the Pacific prior to joining the Navy, and returned to that ocean after leaving Government service in 1919.
All three were of similar appearance, with one mast located forward, one essentially in the middle of the ship, and one aft of the smokestack. Matsonia and Maui were considerably larger than the Wilhelmina and had flush weather decks. Maui's upper superstructure was notably longer and higher than Matsonia's. She also wore a large letter "M" on each side of her smokestack. Wilhelmina, the smaller ship, can be readily distinguished by the deep well deck between her foremast and superstructure.
This page features a table (with links to individual ships) of World War I era U.S. Navy transports with one smokestack and three masts, plus a photograph of each ship in this group.
Click each ship name to access that ship's complete Online Library entry.
Click the small photographs to prompt a larger view of the same image, and the words "Picture Data" to access the Picture Data Sheet for that image.
Ships in this group:
THREE SHIPS with ONE SMOKESTACK (located AFT) and THREE MASTS, subdivided as shown below:
Two medium-size ships:

Matsonia, USN 1918-1919 (ex-American S.S. Matsonia, 1913).

9728 Gross Tons; Length: 480.0'; Breadth: 58.1'

Maui, USN 1918-1919 (ex-American S.S. Maui, 1917).

10,261 Gross Tons; Length: 484.0'; Breadth: 58.0'.




One relatively small ship:


Wilhelmina, USN 1918-1919 (ex-American S.S. Wilhelmina, 1909).

6954 Gross Tons; Length: 426.1'; Breadth: 54.2'







Return to Naval Historical Center home page.
Page made 24 March 2007