Return to Naval Historical Center home page.

Return to Online Library listing


DEPARTMENT OF THE NAVY -- NAVAL HISTORICAL CENTER
805 KIDDER BREESE SE -- WASHINGTON NAVY YARD
WASHINGTON DC 20374-5060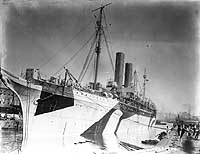 Online Library of Selected Images:
-- U.S. NAVY SHIP TYPES --
WORLD WAR I ERA TRANSPORTS --
with Clipper Bows, Two Smokestacks and Two or Three Masts
A nearly-identical pair of WWI era U.S. Navy transports featured distinctive "clipper" bows (every other ship in this category had a "plumb" bow). These were elderly ships, completed in the late 1880s with three smokestacks, and named City of Paris (later Paris) and City of New York (later New York). Both served in the Navy during the Spanish-American War as (respectively) USS Yale and USS Harvard. They were rebuilt in the early 1900s, with two tall smokestacks replacing the original trio, and Paris was renamed Philadelphia. The two ships operated as civilian-manned troopships during the first part of World War I, but were transferred to the Navy in 1918 and commissioned as USS Harrisburg and USS Plattsburg (existing U.S. Navy ships already bore the names Philadelphia and New York).
Though quite similar in appearance, Harrisburg had lost her mainmast prior to entering U.S. Navy service, leaving her with only two masts. Plattsburg still had three, though at some point in late 1917 or early 1918 the middle one was cut down to about half its original height.
This page features a table (with links to individual ships) of World War I era U.S. Navy transports with clipper bows, two smokestacks and two or three masts, plus one photograph of each ship in this group.
Click each ship name to access that ship's complete Online Library entry.
Click the small photographs to prompt a larger view of the same image, and the words "Picture Data" to access the Picture Data Sheet for that image.
Ships in this group:
TWO SHIPS -- CLIPPER BOWS, TWO SMOKESTACKS and TWO or THREE MASTS:

Harrisburg, USN 1918-1919 (ex-American S.S. Philadelphia, 1889).

10,232 Gross Tons; Length 527.6'; Breadth 63.2'

Two tall masts

Plattsburg, USN 1918-1919 (ex-American S.S. New York, 1888).

10,080 Gross Tons; Length 517.0'; Breadth 63.6'

Three masts, with the middle one relatively short








Return to Naval Historical Center home page.
Page made 23 March 2007