Return to Naval History and Heritage Command home page.

Return to Online Library listing


DEPARTMENT OF THE NAVY -- NAVAL HISTORY AND HERITAGE COMMAND
805 KIDDER BREESE SE -- WASHINGTON NAVY YARD
WASHINGTON DC 20374-5060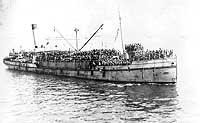 Online Library of Selected Images:
-- U.S. NAVY SHIP TYPES --
WORLD WAR I ERA DISTRICT AND HARBOR VESSELS --
Steam Ferry Lighters employed in French Ports
During the World War I era (1917-1919) the U.S. Navy employed three British-origin coastal and harbor steamers as ferry lighters in French seaports (possibly only Brest) whose waterfront limitations required large troop transports to pick up and discharge passengers out in the harbor instead of alongside a wharf. At least two of these vessels were also used as water carriers and perhaps for other harbor support purposes. This pair were ultimately purchased for continued Navy service and, in 1919, crossed the Atlantic to the United States, while the third was returned to the British.
In addition, at least four other relatively small steamers served as ferry lighters, all apparently at Brest, but were not part of the U.S. Navy. Two operated under French Government control and two may have been in U.S. Army service. Judging from photographs, a small number of other vessels were also employed for this purpose, but we do not presently know much about them.
The lists below feature all of these vessels, including those that were part of the U.S. Navy and those that apparently were not.
This page features Navy and non-Navy Steam Ferry Lighters that were employed in French ports to support the World War I era troop transportation effort. Where available, a photograph of each ship is also provided.
Click the ship name to access this vessel's complete Online Library entry.
Click the small photographs to prompt a larger view of the same image, and the words "Picture Data" to access the Picture Data Sheet for that image.
Ships in this group:
THREE U.S. NAVY SHIPS, plus SEVERAL OTHERS APPARENTLY CONTROLLED BY the U.S. ARMY, the FRENCH GOVERNMENT or OTHER ORGANIZATIONS
ONE U.S. NAVY SHIP -- Long Flush-Decked Hull, Paddle-Wheels amidships, Two Smokestacks and Two Masts:
Tudno, USN 1918-1919 (ex-British S.S. Saint Tudno, 1891). 754 Tons






TWO U.S. NAVY SHIPS -- Low Hull with Forecastle, Mast and Small Turret Superstructure forward, Two-Boom Derrick and Built-Up Deck amidships, Bridge and Smokestack aft:

Rin Tin Tin, USN 1918-1932 (ex-British S.S. Renfrew, 1883). 560 Tons

Later USN Freight Lighter # 160, Water Barge # 30 and YW-30.

Nenette, USN 1918-1920?. Nearly identical to Rin Tin Tin, but had an enclosed pilot house.





ONE SHIP -- Flush Deck, with Superstructure and Smokestack aft:

Knickerbocker (probably not U.S. Navy). Size and other details unknown





ONE SHIP -- Wooden Construction, Full-Length Superstructure, with Pilothouse and Smokestack amidships:

Amackassin (probably not U.S. Navy). Size and other details unknown





TWO SHIPS (operated by the French Government) -- Long Superstructure with Pilot House and Smokestack amidships:

Nomadic (Completed 1911). 1273 gross tons

Traffic (Completed 1911). 675 tons. Similar to, but much smaller than Nomadic






UNKNOWN NUMBER OF SHIPS -- MISCELLANEOUS STEAM FERRY LIGHTERS:

We have photographs of a number of steam ferry lighters, some of which were certainly, and others possibly, employed for personnel transportation. These views are either unidentitified or, if identified, lack other critical information.

THREE PHOTOGRAPHS, apparently showing the same vessel, which has a Long Enclosed Superstructure amidships:


TWO PHOTOGRAPHS, apparently showing the same vessel, which has a Long Lattice Boom attached to her mast:

Unidentified Ferry Lighter (on left), 1919:

Picture Data

Unidentified Ferry Lighter, 1919 (more distant vessel):

Picture Data
FIVE PHOTOGRAPHS, apparently showing different vessels, some of which may be freight lighters that were not used for carrying troops:

Unidentified Ferry Lighter, circa 1918:

Picture Data

Unidentified Lighter (on left), 1919:

Picture Data

Unidentified Lighter at St. Nazaire, France, 1919:

Picture Data





NOTES:


To the best of our knowledge, the pictures referenced here are all in the Public Domain, and can therefore be freely downloaded and used for any purpose.


Some images linked from this page may bear obsolete credit lines citing the organization name: "Naval Historical Center". Effective 1 December 2008 the name should be cited as: "Naval History and Heritage Command".







Return to Naval History and Heritage Command home page.

Page made 26 February 2010