About this Project

John Henry The Steel Driving Man was created by four graduate students at the University of North Carolina at Chapel Hill. We are:

Carlene Hempel
Deb Procopio
Dan Shaver
Beth Novak

The project was completed for Paul Jones' Cyberpublishing & Cybercasting class within the School of Journalism and Mass Communications.
This site is intended to provide a sweeping introduction to the legend of John Henry, the facts associated with the man, and the meaning of some of the many versions of the songs about him.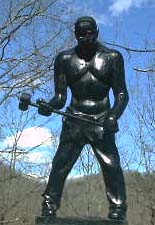 It is also an objective of this site to provide a sampling of the music available within the John Henry genre.
Many thanks to Jeremy Jones who was a valuable resource at the Southern Folklife Collection within the Manuscripts Department at the University of North Carolina-Chapel Hill. He is a wealth of knowledge and we are indepted to him for the music that appears on this site. Also, thanks to Geoff Edgers for his music analysis contribution.
We would also like to thank Mr. Wayne Arrington for his photo contributions (some of them can be seen on this page). We hope to add all of his pictures to the site in the next few weeks.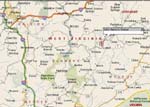 Finally, we would like to thank Paul Jones for his help and guidance through out this project.
July 11, 2002 - Big thanks to Bob Cram for the new design! Yay!