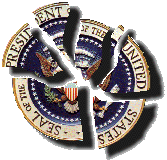 Presidential Power
Forging the Presidency for the 21st Century
---
On November 15th and 16th of this year, Columbia University and the Presidency Research Group will cohost a conference: "Presidential Power: Forging the Presidency for the 21st Century."
---
Directory:

Sponsors:


The Academy of Political Science
The Italian Academy for Advanced Studies in America
The Center for Political Leadership and Participation, The University of Maryland at College Park
---
Contact us at PRGNet.
---
General Description
The frustration of Americans with government is at record highs and policy-makers in Washington are intent on restructuring the federal government to make it more efficient and effective. No individual is as enmeshed in Americans' frustrations and policy makers' efforts to restructure government than is the President and the White House staff who serve him.

With the 35th anniversary of the publication of Presidential Power by Richard Neustadt as our backdrop, we will assemble junior and senior scholars, including Richard Neustadt, to discuss our social science research in the context of presidential performance. Borrowing on the experience of Professor Neustadt who continues to serve at the nexus of scholarship and politics, those attending our conference will explore the problems facing the institution and its occupants. In addition, we will consider the relevance of our scholarship to understanding the issues facing presidents and their White House operations.
---
Connect to:
---
Return to Directory
Contact us at PRGNet.
---
Organizers
We look forward to getting together for what we hope will be an extraordinary event for all of us. In addition to providing assessments of the presidential office and the research in our field, the conference will have the benefit of establishing collegial ties between our junior and senior members.
PRG Leadership
Conference Committees
Martha Joynt Kumar - President
Terry Sullivan - Vice-President
Karen Hult - Secretary/Treasurer
Robert Spitzer - Editor,
PRG Report

  

Agenda Committee:

Lawrence Jacobs, chair
Bert Rockman and Terry Sullivan
Location and Funding:

Martha Kumar - Chair
Richard Brody, George Edwards,
Nelson Polsby, and Robert Shapiro
---
Connect to:
---
Return to Directory
Contact us at PRGNet.
---