The nation of Malaysia is in two parts: Peninsular Malaysia (also called West Malaysia or Malaya) on the southern end of the Malay Peninsula and Malaysian Borneo (East Malaysia) on the island of Borneo roughly 700 km (450 mi) to the east. East Malaysia includes two former British colonies, Sarawak and Sabah, plus a smaller territory called Labuan. Another former British protectorate, Brunei, is an independent enclave surrounded by Malaysia. Sarawak was ruled from 1842 to 1946 by Sir James Brooke and his descendents, who were known as the "White Rajahs," while Sabah was controlled by the British North Borneo Company from 1881 to 1946. After a period as crown colonies, both regions became states of Malaysia in 1963.
This page is for the lighthouses of Sarawak; there's another page for Labuan and Sabah. The coast of Sarawak faces northwest on the South China Sea. The lighthouses of Sarawak are mostly in remote areas, so they attract few visitors and very little is known about them. Information and photos would be very welcome.
Aids to navigation in Malaysia are the responsibility of the Marine Department (Jabatan Laut). Sarawak and Sabah formerly had their own marine departments, but they were merged with the Peninsular Malaya marine department in 2011. The Malay term for a lighthouse is rumah api ("house of fire"); pulau is an island, tanjung is a cape, sungai is a river and kuala is the mouth of a river, teluk is a bay, and pelabuhan is a harbor.
Special thanks to Ezmil Sahrani of GreenFinder Asia for permission to post several of his photos on this page.
ARLHS numbers are from the ARLHS World List of Lights. MY numbers are Malaysian light list numbers, where known. Admiralty numbers are from volume F of the Admiralty List of Lights & Fog Signals. U.S. NGA List numbers are from Publication 112.
General Sources

Posted by the Marine Department, this page links to slide-show presentations on Malaysian lighthouses. Some of the photos are out of date.
Small photos and information, also posted by the Marine Department.
Photos by various photographers posted by Alexander Trabas.
Posted by Greenfinder.asia, this site has several photos of East Malaysian lighthouses.
Photos by various photographers available from Wikimedia.
Historic postcard views posted by Michel Forand.
Navigational chart information for East Malaysia.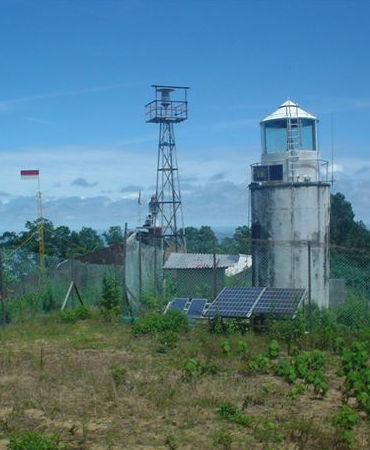 Dueling lighthouses at Tanjung Datu
Malaysian lighthouse at right,
former Indonesian lighthouse in the rear
photo courtesy of Greenfinder.asia