Gonna rise up angry
As Martin drives determinedly back from the village of Copiapo after the symbolically violent crisis engineered by the priest's death, the screen splits to show the advertising signs all along the road. The camera moves in on a nuts and bolts factory just outside Santiago where the workers have staged regular strikes and takeovers. A huge sign stretches right across the front of the factory proclaiming the (genuine) name of the company - AMERICAN SCREW (CHILE). On a ledge just below the sign sits Country Joe in peasant's robes singing The Ballad of Imperialism:
"Ladies and gentlemen (begins Joe as the other half of the screen follows the impassive Martin on his way to report back to Washington), this could be a heavy ballad, telling you about how imperialism is terrible, but everyone knows all that stuff so instead we'll sing you a ballad of imperialism...



What did I know of life, 

from you I was apart,
Until Imperialism came 

and stole my heart,
I took my lips, my eyes, 

my head and soul.
Without it I'd feel so alone,
Like the man I loved
And it's big and strong 
And I'm a peaceful dove
I'm gonna rise up angry
I've got them deep down, 

woebegone, suffocating, 

intoxicating, 

anti-imperialist blues!"

As Martin rendezvous with his CIA contacts, and Simon with his revolutionaries, Suzanne's dilemma reaches its peak when she is co-opted to help Hugo and his Mirista friends kidnap Martin for the cause. She realises that revolution must be fought, but that for her the fight is in the belly of the beast - back in the USA. As she desperately searches for a solution, Osvaldo and the Party put their power behind their electoral effort and Hugo is captured - just as his real-life brother was. The film nears its end.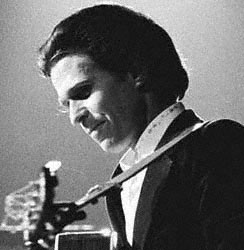 You choose your film
The next day was a quiet Saturday in central Santiago as the victors slept it off and the vanquished plotted their strategy.

I was lunching on white wine, chicken and the monk's harvest with the lovely Sandy Archer, her fellow star Dick Stahl (Martin in the movie), Dick's wife Katherine, Anibal (Simon in celluloid) and the cool Chilean air. We were interrupted by the arrival of two university professors from Brazil who knew Anibal - they had flown in that morning as the news spread to the faithful left of South America that they had a new home, a new hope.

That night I rushed to the airport to catch the only seat left on a plane out of Chile for weeks - the airport was packed with long-haired, cord-jacketed intellectual leftists pouring into the country jostling happily with sour-faced men in blue flannel suits and James Bond suitcases. Americans and other capitalists getting out while they still had their dollars. Allende had promised to nationalise all major industries, including Anaconda Copper, Kennecott Copper, Bethlehem Steel, International Telephone & Telegraph (ITT). Standard Electricity (owned by ITT), Standard Oil, Crown Zellerbach, Mobil Oil, Bank of America, Dow Chemical (they're everywhere), Du Pont and the First National City Bank. Not only that but he also promised to expropriate large landholdings and redistribute them as peasants' cooperatives and finally to dissolve Congress and replace it with a single-house People's Assembly!

As the camera follows Martin and Simon on board their plane to take them back to their leaders, Country Joe sings: "You have just seen an adventure film..." (20 second trailers cut montage with adventure music)... "A film about romance..." (a love-scene trailer of the sexiest cuts from the film)... "A great war film about the greatest war of all times: Latin America at war..." (shot of guerillas, demonstrations, the shooting of the priest)... "A true-life documentary about under development..." (shots of poblacions, tent-villages, poverty and filth).

As the picture fades a box appears on the screen with each of these alternatives in a separate column, and a notice asks you to choose your film.