¡Cuba! 


IBBU-OKUN
(River & Sea)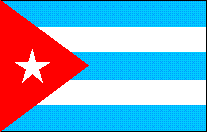 IBBU-OKUN, an all female Afro-Cuban folkloric group from Cuba, made its US debut in March 1995. The group was formed in Havana in 1993, and performs a repertoire of Afro Cuban music and dance traditions: Palo, Yuca, Arara lloosa; and the various styles of Rumba (Yambu, Guaguanco and Columbia).
Amelia Pedroso, IBBU-OKUN's founder and director, is a highly respected percussionist, singer, teacher and performer of Afro Cuban ritual musical traditions. For more than 20 years she has taught and performed as a singer and master percussionst on stage, television, radio and recordings. She is also an acknowledged expert in the Yoruba texts of the ritual music of Cuba.
In 1985 Amelia joined CLAVES Y GUAGUANCO with whom she continues to perform, record and tour internationally. Their album, Songs & Dances" (Green Linnet Records), was released in the U.S. in the Fall of 1994. Amelia has aIso performed with Danza Nacional de Cuba and Danza Contemporanea.
In January 1994, Amelia toured the U.S. with Lazaro Ros. They performed concerts and workshops at schools and universities, appeared in major clubs and concert halls, conducted master classes in instrumental, vocal and dance techniques, recorded in studio sessions with American artists, and were guest performers at numerous ritual ceremonies in Cuban-American communities. In the Summer of 1994, Amelia was an instructor at AFROCUBANISMO, a ten-day international seminar and festival at the Banff Center in Canada.
Amelia Pedroso and the other members of IBBU-OKUN are participants in Afro-Cuban ritual community life for which music plays a fundamental role in communicating with the deities and for whom the drum is a voice. Raised during the period of enormous social change and egalitarianism engendered by the revolution, the women of IBBU-OKKUN, despite an undercurrent of opposition from orthodox male practitioners, felt empowered to access the traditionally male dominated domain of the BATA a family of three double-headed drums which carry on complex polytonal and polyrhythmic conversations. The ceremonial versions of the BATA, played in ritual context, still cannot even be touched by women.
Like many other Cuban drummers, IBBU-OKUN's percussionists are performers of the music which plays a central role in ritual context, and they have also appeared with groups who perform secularized ritual material. Women had traditionally been denied access to the BATA drums, either to learn or perform on them: but as drummers they were drawn to the challenge of the language of the BATA; and that challenge outweighed the controversy which their playing might incur. It is in the context of stage performance that the women of IBBU-OKUN demonstrate their musical versatility.