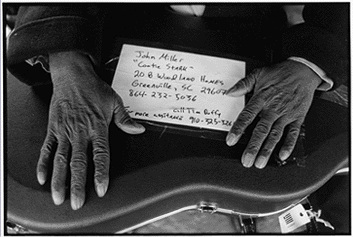 Cootie's Hands - Axel Kustner
HOW YOU CAN HELP:
MAKE A DONATION. The best way to help our cause is through a financial donation to Music Maker Relief Foundation, Inc. In turn, Music Maker makes many grants of cash or in kind awards to cover life necessities of the program artists. The size and shape of relief varies with the individual's needs.
Music Maker offers premiums for your tax deductible donation. Please review the donation form for information on how to receive our CDs, t-shirts and posters.

WHY YOU SHOULD HELP:
Tim Duffy didn't go looking for a Ph.D. in the drink houses, trailers, nursing homes and living rooms of the South. He followed blue highways to Guitar Gabriel, Captain Luke, Big Boy Henry, Samuel Turner Stevens and many other obscure artists, drawn to the special music of the aging, the retired, the forgotten and the infirm.
Determined to help the people he recorded, many now barely surviving on monthly Social Security payments, he established Music Maker Relief Foundation, Inc. in 1994. So far, Duffy says the foundations has raised nearly $350,000 to help artists with everything from musical instruments and transportation to medical bills, dentures and hearing aids.
Duffy, 35, is a folklorist and musician from Connecticut who previously studied the music of Africa and Appalachia. Recording was not his specialty. But remarkably, his blues tapes were transformed into audiophile-grade recordings by Mark Levinson, a designer of high-end audio equipment and a friend of the Duffy family.
Levinson is founder of Cello Music and Film Systems of New York. He also might be the only person in America whose name is a trademark used by a competing company. When Levinson's New Haven audio equipment company failed in the mid-1980s, he was represented by Duffy's father Allen, a lawyer, in a suit filed by a partner over Levinson's right to work in the hi-fi industry. Allen won the case for Mark and shortly thereafter tragically died. (Levinson is not affiliated with Madrigal Laboratories producers of Mark Levinson equipment.)
Several years later, Tim Duffy called Levinson to ask about recording equipment. Levinson heard his tapes, offered to remaster them and helped create what is now an associate of Duffy's foundation, Cello Records-Music Maker Series.
"We're not really out there yet," says Duffy. "We're pretty much underground. But I think it's something the world is ready for."
Some of those first recordings are on this compilation "Expressin' the Blues." Levinson subsequently outfitted Duffy with $50,000 in recording equipment. Duffy packed the two-microphone system and a guitar in his $1,000 van and was off. He found Guitar Gabriel, who had a hit single "Welfare Blues" as Nyles Jones in 1970, in a drink house in east Winston-Salem, North Carolina. Since that time he has located and befriended over 50 such incredible musicians.
Duffy and his wife Denise, continue to work out of their home in Pinnacle, North Carolina. Duffy's recordings may have had problems reaching people. The music doesn't. This is some of the most emotional, gut-level music available on disc, feelings intensified by the immediacy of the recording.
"Expressin' the Blues," contains an unforgettable version on "Rainy Night in Georgia" by Captain Luke, Big Boy Henry improvises a story of his childhood rooster "Old Bill," Rufus McKenzie whoops the blues, and Mississippi John Hurt's gentleness comes to life in the form of John Lee Zeigler of Kathleen, Georgia, who plays the guitar left-handed with the bass and treble strings reversed. And Samuel Turner Stevens, on fretless banjo demonstrates the ties between white hillbilly music and rural blues.
A substantial percentage of each album sale goes to Music Maker Relief Foundation, Inc. whose goal is to keep it's adminstration costs under 25% of their total budget. All other funds go directly to these artists in need in the form of cash or in-kind grants.
To reach Music Maker Relief Foundation, Inc., call (919 643 2456, fax (919 643 2597 or write to : 4052 Summer Lane, Hillsborough, NC 27278
This is real rural country blues, pure Americana, presented in the highest fidelity. These are essential recordings. And, says Duffy, it's only the beginning.
"I'm sitting on a huge catalog," he says. "I've been recording constantly the last 10 years. I have documented over 2,000 songs. My work is a testament to our rich musical heritage."
-Kevin Hunt&nbsp for The Hartford Courant







<!======================footer=======================> Music Maker Relief Foundation, Inc., 4052 Summer Lane , Hillsborough, NC 27278
Email: mmrf@aol.com Tel:919 643 2456 Fax:919 643 2597


How To Help| Gigs| Meet The Artists| Related Articles
Audio Downloads| Photo Gallery| Music Maker CDs| Music Maker T Shirts & Posters|Home