Table of Contents
Regular Features
New This Month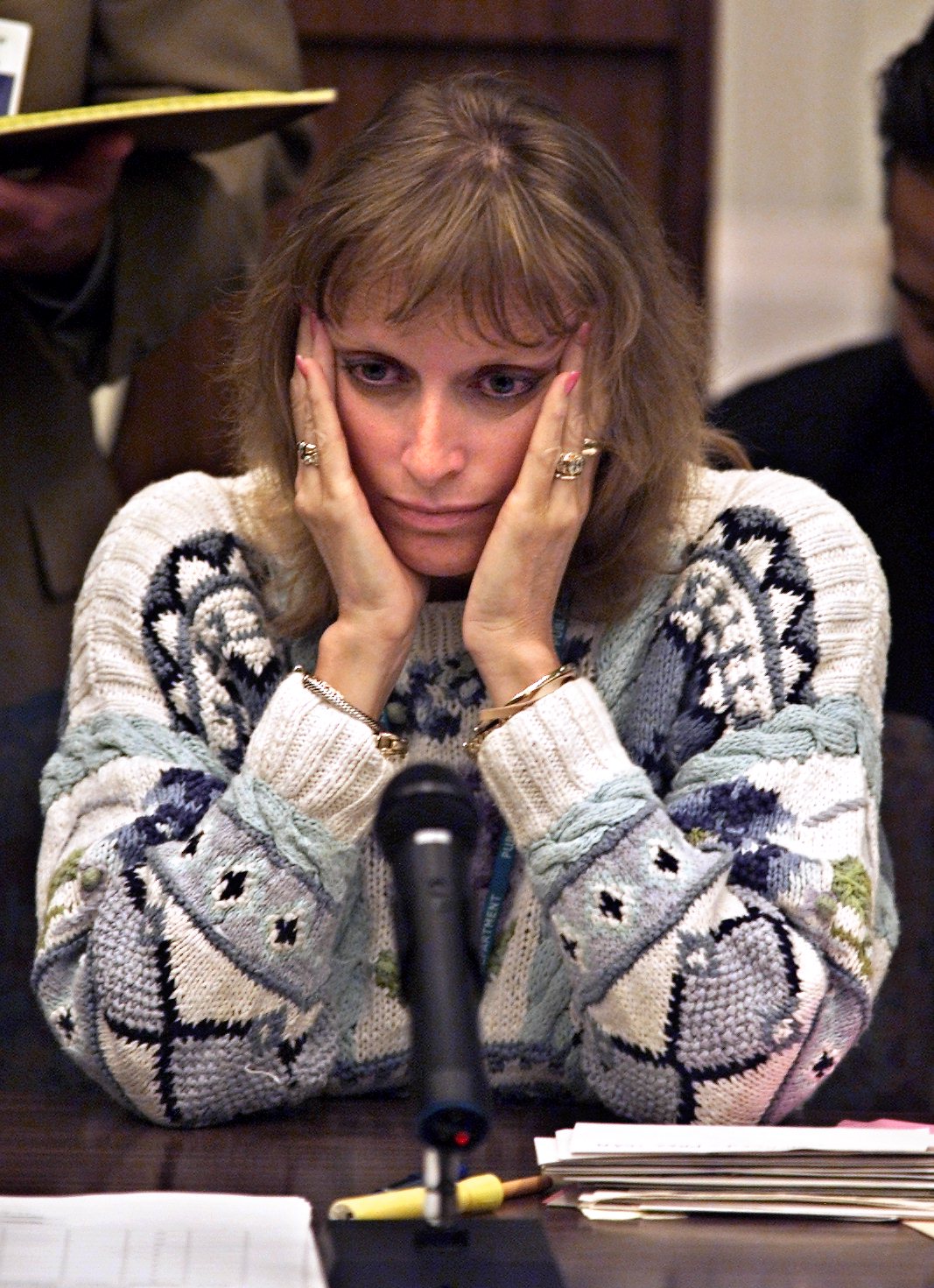 Photo by Lannis Waters/The Palm Beach Post WEST PALM BEACH; 11/25/00: Supervisor of Elections Theresa LePore shows signs of fatigue Saturday as the Palm Beach County election canvassing board continued to examine questionable ballots in the county Emergency Operations Center, where the hand count of all Palm Beach County ballots took place.
Election 2000: The Palm Beach Post Saga
By Sammy R. Alzofon
The Palm Beach Post plans for elections well in advance and plans well. This year our newsroom staff went into overdrive after the 2000 presidential election and also managed to cover non-election news. Our newsroom is still covering many aspects of that election and our CAR editor is wringing her hands because the election is bumping much-needed decennial census results planning, which we coordinate with other Cox newspapers.
Pre-Election
The Editorial Library begins election work well before the primaries. The paper has an election coverage document that details everyone's responsibilities. This document includes what each reporter needs to request from the Editorial Library for background checks for each of their candidates. We research every single candidate for office. A permanent candidate list is maintained on our intranet with addresses and dates of birth, compiled and edited from election to election.
We had primaries, runoffs and general elections in 2000. By election night the work moves to the CAR editor. We get to eat the pizza and pick up any loose ends.
Election Day
The first sign of things to come is at our 11:15 a.m. news meeting on election day when editors compared notes on the many callers who said they may have voted for Pat Buchanan. The first complaints regarding the butterfly ballot had already been coming to our Opinion people and the Metro desk.
What does our budget look like for the first week or so? Here's the only election-related request on election day:
Bruce Lind wants to know the election results for Pat Buchanan in the '92 and '96 elections.
Week One
On the 8th we start getting curious:
Can I get an age and salary for pbc supervisor of elections Theresa LePore???


Need the name of an expert on Florida election law; also telephone for Buchanan national headquarters


Need votes cast for Buchanan in 1992 & 1996 presidential primaries for the following precincts: 77, 77a, 90, 111, 125, 134 & 151, and total number for votes cast in Palm Beach County. Also, background info on Teresa Lapore, any controversies or election irregularities?


Can you find a few articles on exit polls and how they work? Any articles that address last night's goof where all the networks predicted Gore won Florida would be helpful. Thanks!
Here's some of the 9th:
We'd also like to check voter registration and parties of judges on the cases. Those judges are: Circuit Judge Kathleen J. Kroll; Circuit Judge James T. Carlisle, one of the most experienced; Circuit Judge Stephen A. Rapp; Circuit Judge Lucy Chernow Brown; Circuit Judge Catherine M. Brunson.


Looking for the section of the Florida code that identifies the remedy, or remedies, a judge can assign or make for ballot irregularities, specifically for the problem of over votes. Marc says the judge can apply a statistical analysis in the case of ballot irregularity. I asked Marc if the section could be in the Florida Administrative code, and he said possibly, it could be.


Can you get us corporate info, phone numbers, any major news stories on this company: Sequoia Pacific Systems, 1030 N. Anderson Road, Exeter, Calif. 93221. They supposedly made/printed the ballot. Please relay answers to all of people above. Thanks.


List of county names, alpha, along with phone numbers for all supervisors of elections.


I am writing a follow to Mark Foley's claims that Buchanan may have gotten all those votes legitimately. Foley says Buchanan has had good showings in the Republican party before and that Palm Beach County actually has a strong core of reform minded conservatives. I need to find out how many votes Buchanan got in the Republican primary in 1992 and 1996 in Palm Beach County compared to the other republican candidates and third party candidates.
Thank you Newslib - we get a copy of this late Friday night, Nov. 10th, from a Newslib subscriber:
Ref: there was an article in the New Yorker within the last few years concerning the problems with punch voting cards...can you locate that and let me know. this might help with a daily story we're working on another request, more long range: A man named Anderson ran for a PBC office (i think tax collector) in 1984 (early 80s at least). He said there were a bunch of stories in The New York Times that were highly critical of the then-brand new punch card voting system in PBC. thanks.
By Saturday, the 11th:
Dear ref: can you locate this court case, with the case summary and decision. it's a 1998 Florida case titled Gus Beckstrom v. Volusia County Canvassing Board and Robert Del Vogel. the only citation I have is 23 Florida Law Weekly S149B. thanks.
Week Two
Reporters and copy editors, focusing on a single precinct, 194D, begin calling all 2,042 registered voters. Many Buchanan votes come from this precinct. Many of the voters are elderly Jews who did not intend to vote for Pat Buchanan (whose views on Adolph Hitler are not popular in the Jewish community). The library pitched in with telephone number assistance. More than half of these people are contacted within a two day period. The story runs on November 12.
December
It's December now:
Not for tomorrow, but for the reprint, I'd like to get the list of numbers showing how Bush's lead changed over the days, from Nov. 8 through his winning total (if, indeed, he wins)


Can you check the docket on this case. joel says there is a hearing in today. Miami * Minority voters: The Rev. Al Sharpton's National Action Network filed a lawsuit last week claiming Harris' certification disenfranchised minority voters.
Christmas is almost here:
Marc Caputo looking for story telling auction price of Ryder Truck (of ballot fame)
How Did We Do It?
Our ability to access all the information we needed, mostly on flat rate accounts, was indispensable. Best flat rate sources? Lexis-Nexis, Newslibrary, flatrateinfo.com, quickinfo.net and, of course, the wonderful Florida public records sites at both the state and county level, accessible in large part due to the Florida Sunshine Law.
Our reporters scattered across the state and the country. Since we staff the library seven days a week until 10 p.m. (with the exception of Saturday, when we're here until 8:00 p.m), we were accessible. How did we get the information out? We're very fortunate to have multiple ways of delivering what is needed: We have our text archive available on our intranet as well as on a public web site. Reporters can access the intranet via a secure ID. They can then pick up research files on a library FTP site. We also have an excellent e-mail system that allowed us to move files anywhere, anytime.
Research questions were both simple and complex. I can't say how many we handled because we don't keep numbers. One of the most difficult tasks was keeping a daily count on over-votes, under-votes and total votes for each candidate. Another incredibly time-consuming task was gathering biographical information on the innumerable, heretofore obscure, judges that played such an important role in this tale. And it wasn't just the breaking news. Many issues, old and new, converged: reliability of voting equipment, equal access to the polls, standards for conducting an election, and partisan interference in the election process. We looked at the role of election supervisors in Florida and tried to identify people brought in to Florida to disrupt recounts.
And the library staff: what excellent work! Our researchers sat on the front line. We have two full-time researchers, one part-time researcher, and me. I can float from part-time to overtime, whenever needed. PostFacts (our fee-based service to the public staffed by a full-time person) handled many incoming calls from the public and the tabloid media. And I can't forget our photo and text archiving staff. They were deluged with graphic, tabular and photographic files. The memorable one for me is the December 1st listing of every single voting precinct, with the votes for Gore and Bush and the respective under-votes and over-votes. This became 16 individual files in our text archive!
I feel, more so than ever, that our relationship with the newsroom contributed to a research effort that was, as one of our researchers said, "Just another day." The work flowed as smoothly as could be expected, and we also fielded many, many questions from other news libraries. I feel like Theresa LePore looks. A long-awaited Thanksgiving vacation vaporized (could any of you have stayed home anyway?). I wouldn't have missed the experience for the world and it is still happening. The Palm Beach Post has many more stories to write and publish about the 2000 presidential election.
---
Sammy R. Alzofon is Library Director and News Researcher at The Palm Beach Post. You can contact her at salzofon@pbpost.com.