Aertsen, Pieter

The Egg Dance
---
1552; Oil on panel, 84 x 172 cm; Rijksmuseum, Amsterdam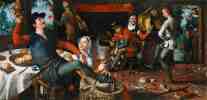 Large picture (210 KB)

There's a a cheerful atmosphere in the tavern. Everyone is having fun, dancing and drinking. What is the man in the foreground doing with his left hand nonchalantly resting on the shoulder of the young woman next to him? She seems to accept his advances and points out the drunkard - the man dancing on eggshells in the middle of the room. Pieter Aertsen has packed his Egg Dance, a work dating from 1552, full of double meanings.
Walking on eggs
Egg dancing was a popular game played during the springtime folk festivities. First a chalk circle was drawn on the floor. Then, accompanied by bagpipe music, the player would use his feet to roll an egg out of a bowl, keeping it inside the circle, and turn the bowl upside down on top of the egg. All this had to be done without touching the flowers, leaves or anything else - and of course the egg had to remain whole. The first to succeed would win a prize: usually a basket of eggs. Here the basket is shown in the foreground.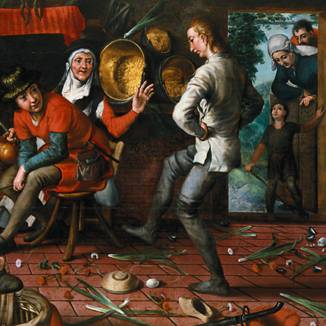 Walking on eggs

Brothel
At the back of the room an old man is playing the bagpipes. Because of its shape, the instrument often symbolised the male genitalia. In the window is a jug containing a leek, a vegetable of the onion family. A sixteenth-century viewer would immediately have realised that the scene was a room in a brothel. Onions were supposed to be a stimulant. All around lie onion flowers, leek leaves and mussels, which were supposed to have the same quality. It was also thought to be true of eggs, the theme of the painting.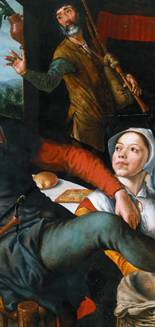 Bagpipe player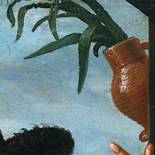 Jar of leeks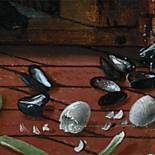 Mussels and eggshells

Entertaining and educational
Pieter Aertsen has given this piquant scene a moral message that appears to reflect his own moral reservations. A joker is depicted on one of the wooden boards on the table, left, and on the other a goat jumping. These are cards in a Tarot set. In the sixteenth century everyone would have understood that these symbolised drunkenness and lust. The reel above the fireplace on the right is a sign of folly: in fact 'reeling' is still used today to describe a person swaying or staggering from the effects of alcohol.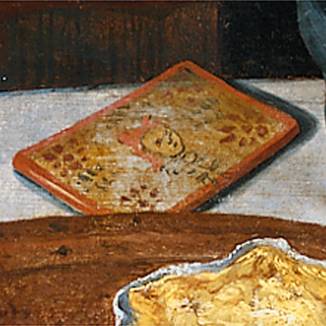 Board with joker

Burghers
The Egg Dance is one of the earliest paintings of a peasant scene. The elongated form suggests it was designed to be hung above a fireplace. This kind of genre painting was popular among the burghers of the cities. The moralistic message was often an excuse to paint a piquant scene. Aertsen was also commissioned to paint large religious works for churches. However, many of these were destroyed during the Iconoclast fury.
Credits: The Rijksmuseum, Amsterdam.
---
© 14 Oct 2002, Nicolas Pioch - Top - Up - Info
Thanks to the BMW Foundation, the WebMuseum mirrors, partners and contributors for their support.