Ast, Balthasar van der

---
Ast, Balthasar van der (b. 1593-94, Middelburg; d. 1657, Delft). Dutch still-life painter, the brother-in-law of Ambrosius Bosschaert the Elder, with whom he trained in Middelburg. He worked in Utrecht before settling in Delft in 1632. His touch was less exquisite that Bosschaert's, but his range was wider, his paintings often including fruit and shells as well as flowers. Jan Davidsz de Heem was his pupil in Utrecht.
Balthasar van der Ast was born in Middelburg, The Netherlands. Although the date of his birth is not recorded, legal action by his acting guardian and brother, Jacob, on 30 June 1618 and on 13 September 1619 indicates that Balthasar turned twenty-five (his maturity) around this time. Thus he was probably born between 1593 and 1594. He was orphaned when his father Hans, a wealthy widower, died in 1609. After his father's death he may have lived with his older sister Maria and her husband, the still-life painter Ambrosius Bosschaert the Elder (1573-1621). Van der Ast's paintings show the impact of Bosschaert's art, which he could have seen in his brother-in-law's studio. Van der Ast, his brother-in-law and three nephews have become known as the Bosschaert dynasty, a group of painters famous for their still-lifes. He seems to have accompanied Bosschaert when the couple moved from Middelburg to Bergen op Zoom in 1615, and a few years later to Utrecht.
In 1619 Van der Ast joined the Saint Luke's Guild in Utrecht. While there he probably trained Bosschaert's three sons after their father had died in 1621. He also taught Jan Davidsz. de Heem. In 1632 he moved to Delft and joined that city's Saint Luke's Guild. He and his wife, Margrieta Jans van Burn, whom he married in 1633, had two daughters, Maria and Helena. Van der Ast died in Delft in December 1657 and was buried in the Oude Kerk there.
Van der Ast specialised in still lifes of flowers and fruit, as well as painting a number of remarkable shell still lifes. He worked together with Roelant Savery and taught Jan Davidsz. de Heem and the sons of Ambrosius Bosschaert.

Flowers in a Glass Vase
Oil on oval panel; Private collection


Flowers in a Vase with Shells and Insects

Fruit still life with shells
1620; Panel, 46 x 64,5 cm; Mauritshuis Royal Picture Gallery, The Hague, Netherlands


Still Life with Fruit and Flowers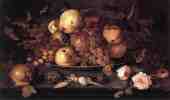 Still-life with Dish of Fruit
Oil on wood; Staatliche Museen, Berlin


Still Life with a Basket of Fruit

Floral Still Life With Shells

Basket of Flowers
c. 1622; Oil on panel, painted surface: 17.8 x 23.5 cm with additions: 18.4 x 24.4 cm; National Gallery of Art, Washington DC, USA


Basket of Fruits
c. 1622; Oil on panel, painted surface: 18.1 x 22.8 cm with additions: 18.8 x 23.5 cm; National Gallery of Art, Washington DC, USA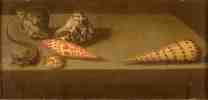 Lézards et coquillages
Oil on wood, 17 x 35 cm; Musée de l'hôtel Sandelin, Saint-Omer, France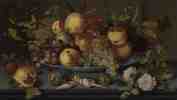 Fruits et coquillages
c. 1623; Oil on wood, 37 x 65 cm; Musée des Beaux-Arts, Lille, France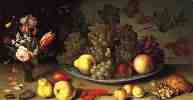 Still Life with Fruits and Flowers
late 1620s; Oil on panel, 41.3 x 74.9 cm; The Norton Simon Museum, Pasadena, CA USA


Still-life
c. 1628; Pen and watercolor, 291 x 399 mm; British Museum, London

Bosschaert's type of flower piece remained popular until after the middle of the 17th century. His most interesting follower is his brother-in-law Balthasar van der Ast who manages to avoid the hard, metallic quality of so many others influenced by Bosschaert. Van der Ast's paintings are more varied than Bosschaert's, and they frequently include lively lizards and toads. His particular speciality is the still-life composed exclusively of shells.

Basket of Fruits

Still Life with Flowers
---
© 14 Oct 2002, Nicolas Pioch - Top - Up - Info
Thanks to the BMW Foundation, the WebMuseum mirrors, partners and contributors for their support.