Avercamp, Hendrick

---
Avercamp, Hendrick (b. 1585, Amsterdam; d. 1634, Kampen). Dutch painter, active in Kampen, the most famous exponent of the winter landscape. He was deaf and dumb and known as de Stomme van Kampen (the mute of Kampen). As one of the first landscape painters of the 17th-century Dutch school, Avercamp links the archaic decorative conception of Flemish origins and the new realist and objective ambitions developped in Holland by Essaias van de Velde and Jan van Goyen. His paintings are colorful and lively, with carefully observed skaters, tobogganers, golfers, and pedestrians. Avercamp's work enjoyed great popularity and he sold his drawings, many of which are tinted with water-color, as finished pictures to be pasted into the albums of collectors (an outstanding collection is at Windsor Castle). His nephew and pupil Barent Avercamp (1612-79) carried on his style in an accomplished manner.
Hendrick Avercamp was born in Amsterdam in a house next to the Nieuwe Kerk, and was baptized in the Oude Kerk on 27 January 1585. In 1586 the family moved to Kampen, where Avercamp's father set up an apothecary's business that continued to be run after his death by his son Lambert. Another son also studied medicine, and the members of this well-educated family were for many years prominent citizens of Kampen. Hendrick's presence in Kampen is related multiple times, for example in 1613 and 1622.
For his artistic training, Hendrick was sent to Amsterdam to study with the Danish portrait painter Pieter Isaacks (1569-1625). In 1607, King Christiaan IV recalled Isaacks to Denmark, and Avercamp appears among the list of buyers at the auction of his teacher's effects as "de stom tot Pieter Isacqs" [Pieter Isaacks's mute]. Various other records testify to Avercamp's disability: in 1622, a document refers to him as "Hendrick Avercamp de Stomme", and his mother's will, drawn up in 1633, instructs that her unmarried, "mute and miserable" son Hendrick should receive, in addition to his portion of the inheritance, an extra allowance of one hundred guilders a year for life from family capital.
During his apprenticeship in Amsterdam, Avercamp came under the influence of the Flemish painters of mannerist landscapes who were then living in the city (emigrated for religious reasons at the end of the 16th century), notably Gillis van Coninxloo (1544-1607) and David Vinckboons (1576-1630/1633). It has been suggested on stylistic grounds that Vinckboons may have been another of Avercamp's teachers, but no documentation of such a relationship exists.
From his earliest works, however--the first dated examples of which come from 1601--Avercamp's style is quite individual, and is most strongly connected not with any Amsterdam trends, but with the work of the minor Kampen artist Gerrit van der Horst (1581/1582-1629). By 28 January 1614 Avercamp was back in Kampen, where he seems to have remained until his death in May 1634. There, in relative isolation from the mainstreams of Dutch art, Avercamp devoted himself almost entirely to the painting of winter scenes, and specifically to depictions of crowds of people engaging in a wide range of activities on frozen rivers. Such scenes were a popular theme as early as the 16th century among Pieter I and Pieter II Bruegel, the Grimmer and the Valckenborch, Gillis Mostaert and Sébastien Vranck.
Avercamp's early landscapes have a predominantly narrative quality, including numerous rather daring anecdotes. His style can be characterized by a high horizon, vivid and chatoyant colors distributed all over the painting, tree branches drawn over the snow or the sky, an archaic sense of perspective and a taste for circular formats focusing on the layout of the depicted scenes. As with Adriaen-Pietersz van de Venne, his little people are depicted in black over a white background and are busy each with a slightly different daily task.
In later years, atmosphere became important in his work. The horizon was brought down. As with Van Goyen, circular frames were progressively replaced with rectangular ones with a large width, a popular format among the 1620-30 painters such as Dirck Hals, Codde, Duck or Duyster.
Avercamp had no important direct followers, although his nephew Barent Avercamp (c. 1612-1679) was his pupil and imitated him heavily (one of his paintings is in the Louvre, in the Croy collection), as were Arent Arentsz. (called Cabel) (1585/1586-1635) and Dirck Hardenstein II (1620-after 1674). Adam van Breen's style was so close from Avercamp's that their artworks are often confused (an example is at the Louvre). Christoffel van Berghe (the mysterious C.V.B.) was active in Middelburg and has a similar painting exhibited in the Mayer van den Bergh Museum in Antwerp.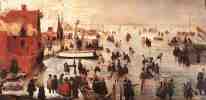 Ice Landscape
Oil on canvas; Staatliche Museen, Schwerin


Ice Scene
Oil on canvas; Rijksmuseum Kröller-Müller, Otterlo


River Landscape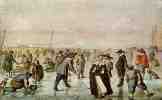 A Scene on the Ice
Watercolor, 190 x 310 mm; Teylers Museum, Haarlem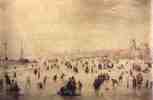 Skaters
Oil on wood, 24 x 38 cm; Pushkin Museum, Moscow


Winter Landscape with Skaters
Oil on wood, diameter: 30,5 cm; Museum of Fine Arts, Budapest


Winter Landscape
Oil on canvas; Pinacoteca Ambrosiana, Milan


Winter Scene on a Canal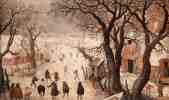 Winter Landscape
Oil on wood, 29.4 x 46.4 cm; Kunsthistorisches Museum, Vienna


Winter Landscape

Winter Landscape with Iceskaters

A Winter Scene with Skaters near a Castle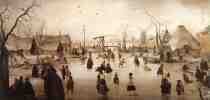 Ice Scene
c. 1610; Oil on panel, 36 x 71 cm; Mauritshuis, The Hague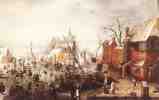 Winter Scene at Yselmuiden
c. 1613; Oil on panel, 47 x 73 cm; Musée d'Art et d'Histoire, Geneva


A Scene on the Ice near a Town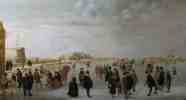 Winter landscape on the River Ijsel near Kampen
c. 1615; Oil on panel
On the frozen River Ijsel figures are skating, playing golf, riding horse-drawn sleighs and conducting business. In the foreground on the left a man is selling smoking supplies. On the left bank in the background there is a windmill and on the right bank are gallows.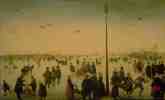 Winter landscape with a frozen river and figures
c. 1620; Oil on copper
On a frozen river figures are skating, socialising and conducting business. On the left a man weighs out chestnuts from a wheelbarrow. In the centre there are colf players and horse-drawn sleighs.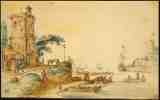 Scene with a Tower to the Left
c. 1620; pen and brown ink with watercolor and black chalk on laid paper, 13.2 x 21.4 cm; National Gallery of Art, Washington DC, USA


Fishermen by Moonlight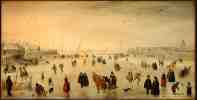 A Scene on the Ice
c. 1625; Oil on panel, 39.2 x 77 cm; National Gallery of Art, Washington DC, USA


Enjoying the Ice
---
© 14 Oct 2002, Nicolas Pioch - Top - Up - Info
Thanks to the BMW Foundation, the WebMuseum mirrors, partners and contributors for their support.