Baldung Grien, Hans

---
Baldung Grien, Hans (b. 1484-85, Schwäbisch-Gmünd, Württemberg (now Germany); d. 1545, Imperial Free City of Strasbourg (now France)). German painter and graphic artist. He probably trained with Dürer in Nuremberg, but his brilliant color, expressive use of distortion, and taste for the gruesome bring him closer in spirit to his other great German contemporary, Grünewald.
Hans Baldung, called Grien, was most probably born in Schwäbisch Gmünd in southwestern Germany, the site of the family home. The most important evidence for deducing his date of birth (between 1484 and 1485) is a self-portrait drawing at age 49 which is preparatory to a 1534 woodcut. It has been pointed out that Hans Baldung was the only male member of his family not to receive a university education, for unlike many artists, he belonged to a family of academics, intellectuals, and professionals: he was surrounded by physicians, lawyers and scholars. His father was an attorney who seems by 1492 to have settled in Alsace. It is usually assumed that Baldung's earliest training took place around 1499/1500 in the Upper Rhine, perhaps with a Strasbourg artist, but an apprenticeship in Swabia has also been suggested. He probably trained with a painter from Martin Schongauer's school.
Baldung and Dürer
By 1503 Baldung had moved to Nuremberg and had become a member of Albrecht Dürer's workshop. It was probably here that he acquired the nickname "Grien", perhaps a reference to his use of the color green or a preference for green attire -- he has a marked affinity for the color green, and many of his religious scenes are bathed in a weird, supernatural glow. It could also have distinguished him from Hans Schäufelein, Hans Süss von Kulmbach, and Hans Dürer, Albrecht's younger brother, all of whom were in Dürer's atelier. Baldung immediately absorbed Dürer's formal vocabulary, as is evident in one of his earliest dated works, the 1503 pen drawing of Aristotle and Phyllis. This picture symbolizes the power of the women by representing the phylosopher Aristotle as he brings on his back his lover, Phyllis. This story was often pictured by Renaissance artists.

Phyllis and Aristotle
Pen and black ink; Musée du Louvre, Paris


Aristotle and Phyllis
1513; Woodcut, 33 x 23.6 cm

In 1505 he produced alongside Dürer most of the woodcuts from Ulrich Pinder's book, Beschlossen Gart, and after Dürer's departure to Italy in 1505, he illustrated Speculum Passionis from the same author. It is quite possible that Baldung became head of the workshop during Dürer's second journey to Italy in 1505-1507, and these years saw the production of designs for stained glass, woodcuts from 1505 on, and engravings beginning in 1507. Dürer and Baldung remained lifelong friends, and on his trip to the Netherlands Dürer took along some of Baldung's woodcuts to sell.

Madonna and Child on a Grassy Bench
c.1505-07; Print on woodcut; The University of Michigan Museum of Art, Ann Arbor, MI USA

In 1507 Baldung was probably in Halle where he had received commissions for two altarpieces, the triptychs of The Adoration of the Magi (Berlin) and Saint Sebastian (Nürnberg museum). Although still displaying some clumsiness, colors are surprisingly sure, and Baldung's self-esteem is revealed by the fact that he drew a self-portrait behind the main character at the center of the retable of Saint Sebastian.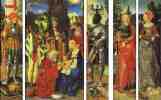 The Three Kings Altarpiece
1507; Oil on wood; Gemäldegalerie, Berlin, Germany
Central panel and interior wings: St. George, The Adoration of the Magi, St. Maurice
Exterior wings: St. Catherine of Alexandria, St. Agnes

Strasbourg
In 1509 the artist returned to Strasbourg and became a citizen. He soon became famous, and later even became a member of the town council. The following year he married Margarethe Herlin, joined the guild "zur Steltz", opened a workshop, and began signing his works with the HGB monogram that he used for the rest of his career. In addition to traditional, religious subjects, Baldung was concerned during these years with the profane theme of the imminence of death and with scenes of sorcery and witchcraft. He was responsible for introducing supernatural and erotic themes into German art. He often depicted witches, also a local interest: Strasbourg's humanists studied witchcraft and its bishop was charged with ferreting out witches.

The Witches

Departing for the Sabbath
Gouache; Albertina Collection, Vienna

Along with Cranach and Hans Burgkmair, he was one of the earliest masters of the chiaroscuro woodcut.
His most characteristic paintings are fairly small in scale; a series of puzzling, often erotic allegories and mythological works, exemplified by Death Kissing a Maiden (1517, Öffentliche Kunstsammlung, Basel) involve the motif of a female nude threatened by a grotesque skeleton, a subject he treated several times. In The Three Ages of Woman and Death (Kunsthistorisches Museum, Vienna, c. 1510), the beauty of the human body is confronted with the appalling image of Death, represented as a cadaver similar to the allegory of the Vanitas, inspired by the Middle-Ages macabre dances.

The 'Ages' series and Death

The Knight, the Young Girl, and Death
Oil on wood, 35.5 x 29.6 cm; Musée du Louvre, Paris, France

He also painted religious scenes: two Crucifixion (Berlin and Basel), The Mass of St. Gregory (Cleveland Museum of Art, Ohio, USA), a Nativity (Basel), and many representation of The Rest during the Flight into Egypt (Vienna and Nürnberg). Dürer's influence can still be spotted, although the composition reveals a clarity and a unique personal spirituality.

The 1510 Nativity

Saint Anne with the Christ Child, the Virgin, and Saint John the Baptist

Saint John on Patmos

The Dead Christ
The Crucifixion
1512; Oil on wood; Gemäldegalerie, Berlin, Germany

His masterpiece: the retable of the Freiburg cathedral
In 1512 Baldung moved to Freiburg im Breisgau to work on his largest and most important commission, the multi-paneled high altar of the Münster (Freiburg Cathedral, eleven panels, still in place today), containing on the center panel the radiant Coronation of the Virgin; on the sides, The Apostles; the outside panels depict scenes from the life of the Virgin, The Annunciation, The Visitation, The Nativity and The Flight into Egypt; at the back, The Crucifixion, four Saints and The Donators.
It's one of the few monumental retables that is still kept in place today at the original location. The layout and light effects are inspired by Grünewald, who works at Isenheim at the same period. The same expressions can be found in the Christ Lamentation (Berlin), painted around 1516. Around 1514-15 he also painted for Freiburg's cathedral two panels of the Schnewlin retable: The Baptism of Christ and Saint John on Patmos (Freiburg).

The Lamentation
c. 1515; Oil on wood; Gemäldegalerie, Berlin, Germany


Mater Dolorosa
c. 1516; Wood, 153 x 46 cm; Museum of Fine Arts, Budapest
Originally the panel was on the outer side of an altarwing. Its companion-piee was a Vir Dolorum (Man of Sorrows).


Mater Dolorosa (detail)

The Lamentation
1515-17; Print on woodcut; The University of Michigan Museum of Art, Ann Arbor, MI USA

Mannerism
The altarpiece was not completed until 1516 and Baldung returned to Strasbourg early in 1517 where, as far as we know, he remained for the rest of his life. From the 1520's onward the pictorial and psychological content of his work becomes increasingly mannered, reflecting in part exposure to Italian art. His style developed Mannerist features: clashing colors and sinuous line combined with naturalistic detail. The 1516 Déluge (Flood) (Bamberg) reveals already this duality, with a very animated composition and dissonant colors.

Nativity / The Birth of Jesus
1520; Pine panel, 105.5 x 70.4 cm; Alte Pinakothek, Munich
An idyllic representation of the frequently painted subject from one of the most peculiar German Renaissance artists.


Nativity / The Birth of Jesus
(same as above, different photograph)


The Adam and Eve series
Baldung's wild imagination and exaltation is reflected in allegories and mythological themes such as the impressive Witches (Frankfurt, 1523), full of diabolism and sensuality, influenced by superstitions of the Reformation century. He had depicted the same subject before in drawings and etchings.

Music
c.1529; Pine panel, 83 x 36 cm; Alte Pinakothek, Munich


Prudence
1529; Pine panel; Alte Pinakothek, Munich

Toward the end of his life, Baldung increasingly represented secular subjects, reflecting the Reformation's constraints on religious art. Although Baldung continued to produce religious subjects for private patrons, he increasingly painted portraits or scenes from ancient legends, mythology and history, such as Pyramus and Thisbe (Berlin, 1530), Hercules and Antaeus (Breslau, 1530-31), Mucius Scaevola (Dresden, 1531). Such works illustrate the transition from Renaissance to Mannerism.

Pyramus and Thisbe
1530; Oil on panel; Gemäldegalerie, Berlin

This mannerist spirit is highlighted and accentuated in the works produced during the last 20 years of his life in Strasbourg. Figures now have complex attitudes and abandonned the human body classical proportions learnt from Albrecht Dürer. Some of his artworks resemble those of Cranach the Elder. Mannerist tendencies are also visible in religious artworks. His multiple Virgin with Child (Nürnberg, Berlin, Strasbourg) reveal the influence of Jan Gossaert (c.1487-c.1536) and of 15th century Gothic painting.

Virgin and Child
c.1539-40; Oil on wood; Gemäldegalerie, Berlin, Germany


Sacred and Profane Love
Städel Institut, Frankfurt-am-Main

Baldung's Portraits
Throughout his life Baldung painted numerous portraits, known for their sharp characterizations. While Dürer rigorously details his models, Baldung's style differs by focusing more on the personality of the represented character, an abstract conception of the model's state of mind.

Portrait of a Young Man with a Rosary

Ludwig, Count von Löwenstein
1513; Oil on wood; Gemäldegalerie, Berlin, Germany


Portrait of a Man

Count Philip
1517; Wood, 41 x 31 cm; Alte Pinakothek, Munich


Portrait of a Lady
At the time of his death in September, 1545, Baldung was a member of the city council of Strasbourg and one of that city's richest citizens. His artistic estate went to Nicolaus Kremer, who was probably a pupil.
Hans Baldung Grien was Dürer's most inventive and talented disciple, who nonetheless achieved a distinctive style. Baldung's work was expressionistic, imaginative and vividly colorful. His output was varied and extensive, including religious works, allegories and mythologies, portraits, designs for stained glass and tapestries, and a large body of graphic work, particularly book illustrations. Baldung's oeuvre consists of approximately 90 paintings and altarpieces, about 350 drawings and 180 woodcuts and book illustrations.
Eroticism is often strongly present in his engravings, the best known of which is The Bewitched Groom (1544), which has been interpreted as an allegory of lust.

The Bewitched Groom
1544; Woodcut, sheet: 33.9 x 19.9 cm
Kupferstichkabinett, Staatliche Museen Preussischer Kulturbesitz, Berlin, Germany
or the Metropolitan Museum of Art, New York, USA
or the National Gallery of Art, Washington DC, USA

---
© 14 Oct 2002, Nicolas Pioch - Top - Up - Info
Thanks to the BMW Foundation, the WebMuseum mirrors, partners and contributors for their support.