Klimt, Gustav

---
The work of the Austrian painter and illustrator Gustav Klimt, b. July 14, 1862, d. Feb. 6, 1918, founder of the school of painting known as the Vienna Sezession, embodies the high-keyed erotic, psychological, and aesthetic preoccupations of turn-of-the-century Vienna's dazzling intellectual world.

Love
1895 (90 Kb); Museum der Stadt Wien, Vienna
Detail of a well-dressed woman closing her eyes and abondonning herself to her first kiss. A gypsy-like man looks down on her about to kiss her.

He has been called the preeminent exponent of ART NOUVEAU. Klimt began (1883) as an artist-decorator in association with his brother and Franz Matsoh. In 1886-92, Klimt executed mural decorations for staircases at the Burgtheater and the Kunsthistorisches Museum in Vienna; these confirmed Klimt's eclecticism and broadened his range of historical references. Klimt was a cofounder and the first president of the Vienna Secession, a group of modernist architects and artists who organized their own exhibition society and gave rise to the SECESSION MOVEMENT, or the Viennese version of Art Nouveau. He was also a frequent contributor to Ver Sacrum, the group's journal.
Among the important decorative projects undertaken by Klimt were his celebrated Beethoven frieze (1902; Osterreichische Galerie), a cycle of mosaic decorations for Josef Hofmann's Palais Stoclet in Brussels (1905-09), and numerous book illustrations.

The Beethoven Frieze
1902 (120 Kb); Secession Building, Vienna
Detail from the first wall of the frieze depicting man's search of happiness. This section shows a naked man and woman praying for the knight (modelled on Gustav Mahler) who will set out in search of happiness. Behind the man and woman is a second woman who gazes on in contemplation. Above the knight other woman give the knight a laurel crown.


The Beethoven Frieze
1902 (110 Kb); Secession Building, Vienna
Detail from the third wall of the frieze depicting man's search of happiness. This section shows the woman used in the repeating motif sitting. Her swirling hair and the gold behind her have a grain like wood.

The primal forces of sexuality, regeneration, love, and death form the dominant themes of Klimt's work. His paintings of femmes fatales, such as Judith I (1901; Osterreichische Galerie, Vienna), personify the dark side of sexual attraction. The Kiss (1907-08; Osterreichische Galerie) celebrates the attraction of the sexes; and Hope I (1903; National Gallery, Ottawa) juxtaposes the promise of new life with the destroying force of death. The sensualism and originality of Klimt's art led to a hostile reaction to his three ceiling murals--Philosophy (1900), Medicine (1901), and Jurisprudence (1902)--for the University of Vienna.

Judith I
1901 (80 Kb); Osterreichische Galerie, Vienna

---

Wasserschlangen I
1904-07 (120 Kb)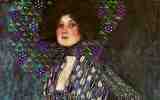 Emilie Floge
1902 (110 Kb); Historisches Museum der Stadt Wien, Vienna
Detail from a portrait of Emilie Floge standing hand on hip, in a dress that she designed.


Bildnis Margaret Stonborough-Wittgenstein
1905 (30 Kb); Oil on canvas, 180 x 90cm; Bavarian State Collection of Paintings, Neue Pinakothek, Munich


Bildnis Fritza Riedler
1906 (60 Kb); Oil on canvas, 153 x 133cm; Österreichische Galerie, Vienna


Danae
1907 (90 Kb); Private collection, Graz
Danae, seemingly underwater, thighs drawn up. Gold and silver seminal flow rising between her legs. Very erotic.
The legend concerns her mating with Zeus in the form of a gold shower, to conceive Perseus, which is depicted here. The eroticism is highly intentional: the red hair, etc. The small black rectangle is Klimt's reduction of maleness to an abstract symbol.


Adele Bloch-Bauer I
1907 (140 Kb); Oil and gold on canvas, 138 x 138; Austrian Gallery, Vienna
Adele Bloch-Bauer clasping her hands (she had a deformed finger). Dressed in gold, surrounded by gold. A very gold picture.


The Kiss

Mäda Primavesi
c. 1912 (220 Kb)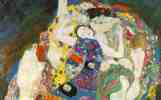 Die Jungfrau
1913 (110 Kb); The Virgin; Narodni Galerie, Prague
Beautiful very colourful painting of a group of women yawning, stretching, sleeping. It looks like ten women in one bed with loads of colourful duvets. Brilliant.

Klimt's style drew upon an enormous range of sources: classical Greek, Byzantine, Egyptian, and Minoan art; late-medieval painting and the woodcuts of Albrecht Dürer; photography and the symbolist art of Max Klinger; and the work of both Franz von Stuck and Fernand Khnopff. In synthesizing these diverse sources, Klimt's art achieved both individuality and extreme elegance.
---
© 19 Aug 2002, Nicolas Pioch - Top - Up - Info
Thanks to the BMW Foundation, the WebMuseum mirrors, partners and contributors for their support.