Walker Percy Papers Collections
Descriptions of Primary and Secondary Archives Related to Walker Percy
Directory
Select a directory button to access information about the different aspects of the available manuscript collections and their housing libraries.
Overview
Three main institutional collections have materials pertaining to Walker Percy's work and life. These include his personal papers held at The University of North Carolina at Chapel Hill, biographical collections archived at Loyola University, New Orleans, and a historical collection related to the publication of The Moviegoer housed at The University of Texas at Austin.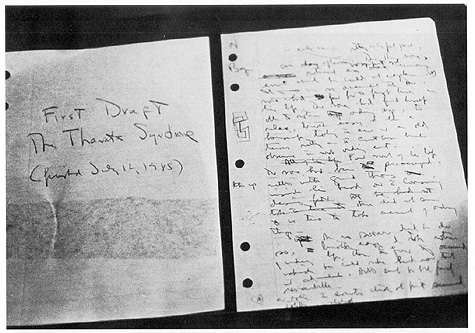 Housing Libraries
For general information about the libraries in which these three primary collections are held, as well about other libraries with Percy-related collections, consult the following listed websites.
NOTE: all housing library and collection links open in new external windows.

Directory
Specific Collection Descriptions
For brief overview descriptions of the specific archive collections related to Percy, prepared below for convenience, see as follows.* More detailed descriptions of each collection may be available in some cases on the respective collection's hosting website.
Southern Historical Collection, Louis Round Wilson, Special Collections Library, University of North Carolina at Chapel Hill


"Walker Percy Papers #4294, circa 1910-1996" http://library.loyno.edu/assets/handouts/archives/Collection_64_Percy.pdf
The collection includes drafts, notes, and other materials relating to all of Walker Percy's major works and to many of his shorter efforts. Materials include two unpublished works: a novel, "The Gramercy Winner," and a non-fiction work, "Symbol and Existence: A Study in Meaning." Also included are source materials and other items regarding authors and topics of interest to Percy, including religious themes in literature and intellectual life in the American South. The collection also include materials relating to John Kennedy Toole's A Confederacy of Dunces (1980), which Percy helped publish, and correspondence with authors, critics, and others, such as Shelby Foote, a life-long friend, and Caroline Gordon, who provided Percy with in-depth critiques and advice. [About 2200 items.]

Monroe Library, Special Collections, Loyola University, New Orleans

Harry Ransom Center, The University of Texas at Austin


"Alfred A. Knopf, Inc.: An Inventory of Its Records in the Manuscript Collection at the Harry Ransom Center, 1873-1996"
The collection includes the records of Alfred A. Knopf, Inc. Beyond recording the publishing firm's history and publication process, the collection, in particular, includes Walker Percy's heavily annotated white sheet for The Moviegoer (which was published by Knopf), as well as a rejection sheet for an unpublished manuscript titled "Symbol and Existence: A Study in Meaning." Materials relating to The Moviegoer are found in five areas of the archives: General (1915-1961)/Historical (1962-1970) correspondence; Editor Files; Publicity Files; Knopf Personal Files; and Alfred A. Knopf Personal Correspondence Files. Included are 125 pages of letters, in-house memos, newspaper clippings, reviews, and more relating to Percy's National Book Award-winning novel. (Cf., Heather Moore, The Library Chronicle of the University of Texas (1993), essay as listed below.)

Howard-Tilton Memorial Library, Special Collections, Tulane University, New Orleans


"John Kennedy Toole Papers, 1930-1999"
The collection primarily consists of the personal and literary papers of John Kennedy Toole, including unbound manuscripts and typescripts, correspondence, pamphlets, drawings, photographs, music, and posters. There is a considerable amount of memorabilia from his mother, Thelma Ducoing Toole, including his undergraduate honors thesis. John Kennedy Toole's correspondence with Robert Gottlieb, his first editor, as well as letters illustrating the process of getting A Confederacy of Dunces published, are in this collection. There are also large numbers of reviews and articles about Toole and his works. [27 Boxes]

Paul Barret Jr. Library, Rhodes College, Memphis, Tennessee


"Shelby Foote Collection"
The manuscripts and papers in the "Shelby Foote Collection" present a picture of Foote's professional and personal life from records he retained from the 1940s through the early 2000s. The collection is composed of manuscripts, research notes, letters, photographs and diaries, including materials related to his lifelong friendship with Walker Percy. A Finding Aid is embedded in the formal description of the collection.
*Brief collection descriptions found on this page compiled November 2014.

Directory
Publications of Interest: Collection Histories
Consult the following publications for collection histories:
"Extending Walker Percy's Legacy: The Story of His Papers at The University of North Carolina at Chapel Hill," Walter West, Special Collections Librarian (presented at 1992 Walker Percy Symposium, Covington, La.)
"Walker Percy's The Moviegoer: A Publishing History," Heather Moore (The Library Chronicle of the University of Texas, 22.4: 123-144, 1993)
Butterfly in the Typewriter: The Tragic Life of John Kennedy Toole and the Remarkable Story of A Confederacy of Dunces, Cory MacLauchlin (Cambridge, MA: Da Capo Press, 2012, 319 pages)
The Correspondence of Shelby Foote and Walker Percy, Jay Tolson, Editor (New York: Doubletake/Norton, 1996, 310 pages)
Along with the above collections, researchers may wish to consult the additional bibliographic materials on Percy located in the Project's Bibliographies on Walker Percy section.