Interviews with Walker Percy
Transcribed Interviews with Walker Percy During His Career
Selected Interviews
Presented by the Project
"...the idea of man in quest, man in search, doesn't have to have any great revelation...if he's got any sense and comes to himself or herself, he spends his time searching for what happened, searching for the answer..."
— Walker Percy
Additional Interviews
Available on the Web
Interview Book Collections
Additional Interviews are available through the following books.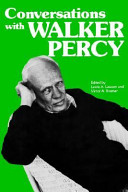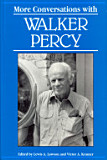 Conversations with Walker Percy (1985) and More Conversations with Walker Percy (1993)
University Press of Mississippi
* * *
Read further information about the Project Bookstore
By purchasing copies of these books through the Project Bookstore, you are supporting the activities of The Walker Percy Project. You can find additional books by Walker Percy in the Project's Books by Percy section.