The Bodensee, usually called Lake Constance in English, is a large lake at the extreme southern end of Germany; the lake is 63 km (39 mi) long and as much as 14 km (8.7 mi) wide. The Rhine River passes through the lake as it leaves Switzerland and begins its course northward through western Germany. The lake is an international waterway: its northern shore is in Germany, the southern shore is in Switzerland, and the eastern end of the lake is in Austria. Navigation is limited to pleasure craft, ferries, and excursion boats like the Austrian ship leaving Lindau in the photo at right.
Historically all three countries had lighthouses on the lake. In addition to the lighthouses listed on this page there are remarkable new lights at Bregenz in Austria and three small lighthouses are listed on the Switzerland page.
The Federal Republic of Germany (Bundesrepublik Deutschland in German) is a federation of sixteen states (Länder). Most of the German shore of the Bodensee is in the state of Baden-Württemberg but Lindau, near the eastern end of the lake, is in Bayern (Bavaria).
In German, a lighthouse is a Leuchtturm ("light tower"), plural Leuchttürme; Insel is an island, Riff is a reef, Kap is a cape, Bucht is a bay, and Hafen is a harbor.
Lighthouses on the lake are probably maintained by the municipal governments of each community.
ARLHS numbers are from the ARLHS World List of Lights.
General Sources

Photos and information posted by Erich Hartmann.
Photos and notes by Malte Werning.
Photos by Andreas Köhler.
Photos by various photographers available from Wikimedia.
Photos by various photographers available from Lightphotos.net.
Historic postcard views also posted by Klaus Huelse; Bodensee views are at the top of this page.
Navigational chart of the Bodensee.
Navigational chart of the Bodensee.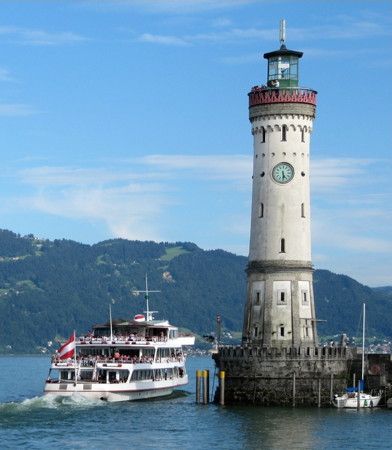 Lindau Light, Lindau, August 2011
Flickr Creative Commons photo by Winfried Tommerdich