The nation of Malaysia is in two parts: Peninsular Malaysia (also called West Malaysia or Malaya) on the southern end of the Malay Peninsula and Malaysian Borneo (East Malaysia) on the island of Borneo roughly 700 km (450 mi) to the east. West Malaysia is the former Federation of Malaya, a union of 11 states placed under British protectorate in the late 1800s. Malaya became independent in 1957. In 1963 the British granted independence to Malaysia, a new country formed by uniting Malaya, Singapore, Sarawak, and Sabah (North Borneo). Singapore, a predominantly Chinese city just off the tip of Malay Peninsula, left the union in 1965 and has been independent since.
Malaya faces one of the world's most important waterways, often called simply The Straits. The Strait of Malacca opens westward to the Indian Ocean and separates Malaya from the Indonesian island of Sumatra. At its southeastern end the Strait of Malacca joins the Singapore Strait, which connects to the Natuna Sea, South China Sea and Pacific Ocean.
Malaysia is a federal constitutional monarchy consisting of thirteen states and three federal territories. This page describes lighthouses of the south coast of the Malay Peninsula, facing the Strait of Malacca in the states of Johor, Melaka, Negeri Sembilan, and Selangor.
The Malay term for a lighthouse is rumah api ("house of fire"); pulau is an island, terumbu is a reef, tanjung is a cape, bukit is a hill, sungai is a river, kuala is the mouth of a river, teluk is a bay, selat is a strait, and pelabuhan is a harbor.
Aids to navigation in Malaysia (except for Pulau Pisang) are the responsibility of the Marine Department (Jabatan Laut). Aids to navigation in the heavily-traveled Strait of Malacca are regulated by the Malacca Strait Council, a consortium of the maritime authorities of Singapore, Malaysia, and Indonesia.
ARLHS numbers are from the ARLHS World List of Lights. Admiralty numbers are from volume F of the Admiralty List of Lights & Fog Signals. U.S. NGA List numbers are from Publication 112.
General Sources

Photos posted by Greenfinder.asia, a navigational aids and maritime services company.
Photos by various photographers posted by Alexander Trabas. Most of the photos for this area are by Jim Smith, Capt. Theo Hinrichs ("Capt. Theo"), or Rainer Arndt.
Photos by various photographers available from Wikimedia.
Photos by various photographers available from Lightphotos.net.
Historic postcard views posted by Michel Forand.
Historic postcard views posted by Klaus Huelse.
Navigational chart information for the Malacca Strait.
Navigational chart for Malaysia.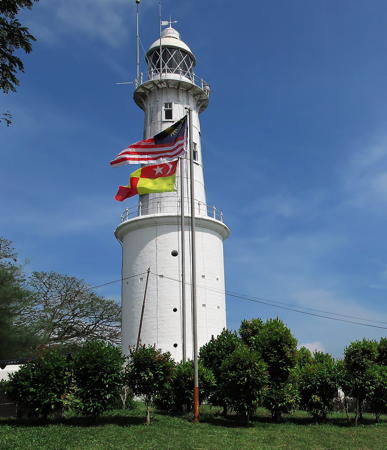 Kuala Selangor Light, Kuala Selangor, May 2010
Flickr Creative Commons photo by Stratman²