A small country with a long maritime tradition, The Netherlands is home to a large number of historic lighthouses. For centuries fires were lit atop brick towers to guide returning Dutch sailors, and even today the traditional Dutch word for a lighthouse is vuurtoren (fire tower). (The Dutch word lichthuis, though often translated "lighthouse," actually means a lantern room.)
This page includes lighthouses of the northern part of the country, including the provinces of Noord Holland (North Holland), Gelderland, Flevoland, Friesland, and Groningen. This region includes the Amsterdam area and the IJsselmeer as well as the Frisian Islands.
The IJsselmeer is the shallow freshwater lake stretching northeast from Amsterdam, the remnant of the former Zuiderzee cut off from the sea since 1932 by the Afsluitdijk dam and causeway. More than half the original area of the Zuiderzee has been reclaimed as dry land by Rijkswaterstaat IJsselmeergebied, the IJsselmeer Directorate, an agency of the Ministry of Transport and Waterways. In 1975 a second dam was completed across the center of the IJsselmeer, from south of Enkhuizen to Lelystad, cutting off the southwestern part of the IJsselmeer as a separate lake called the Markermeer. The Markermeer was to be drained but this project has been postponed indefinitely and may never be carried out. Since these are inland waterways, lights of the IJsselmeer and Markermeer are not carried on the international light lists.
There is strong interest in the country in lighthouses and their preservation and many towers have been restored in recent years.
Lighthouses in the Netherlands are maintained by the Rijkswaterstaat, the principal infrastructure agency. Lighthouses of the IJsselmeer are maintained by a separate division of the ministry, the Rijkswaterstaat IJsselmeergebied, formerly called RDIJ. In recent years there has been a movement to transfer some of the historic towers to the ownership of municipal authorities.
ARLHS numbers are from the ARLHS World List of Lights. NL numbers are from the official Dutch list as listed on the Vuurtorens in Nederland web site. U.K. Admiralty numbers are from volume B of the Admiralty List of Lights & Fog Signals. U.S. NGA numbers are from Publication 114. The international light lists do not include the lights of the IJsselmeer and Markermeer.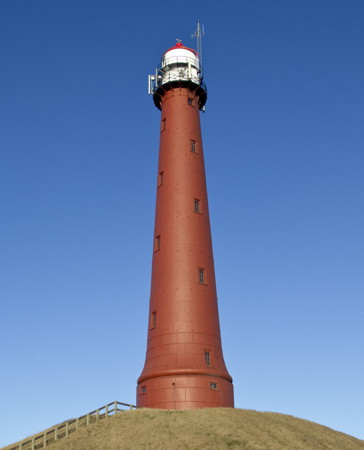 IJmuiden Range Rear Light, Velsen, January 2011
Flickr Creative Commons photo by Martin de Witte