A small country with a long maritime tradition, The Netherlands (Nederland in Dutch) is home to a large number of historic lighthouses. For centuries fires were lit atop brick towers to guide returning Dutch sailors, and even today the traditional Dutch word for a lighthouse is vuurtoren (fire tower).
The Netherlands is divided into twelve provinces (provincies), and the provinces are subdivided into municipalities (gemeenten). This page includes lighthouses of the southern part of the country, including the provinces of Zeeland, Noord-Brabant, and Zuid-Holland (South Holland). This region includes the mouths of the great rivers of northwestern Europe: the Schelde, Maas (Meuse), and Rhine. It also includes Rotterdam, the largest port in Europe and second largest city of the Netherlands.
There is strong interest in the country in lighthouses and their preservation and many towers have been restored in recent years.
Lighthouses in the Netherlands are maintained by the Rijkswaterstaat, the ministry of infrastructure and water management. In recent years there has been a movement to transfer some of the historic towers to the ownership of municipal authorities.
In Dutch vuurtoren is a lighthouse, lichtopstand is a smaller light beacon, baken is an unlit beacon, eiland is an island, ondiepte is a shoal or reef, baai is a bay, zeestraat is a strait, zeegat is an estuary or harbor mouth, kaap is a cape or headland, sluis is a lock, dijk is a dike, rivier is a river, and haven is a harbor.
ARLHS numbers are from the ARLHS World List of Lights. NL numbers are from the official Dutch list. U.K. Admiralty numbers are from volume B of the Admiralty List of Lights & Fog Signals. U.S. NGA numbers are from Publication 114.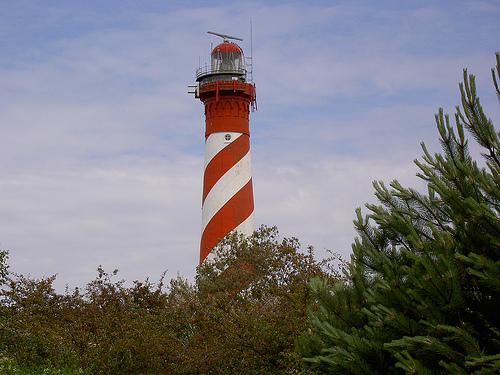 West Schouwen Light, Haamstede, June 2004
Flickr Creative Commons photo by Ralf Schulze