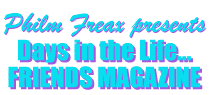 Philm Freax a.k.a. Phil Franks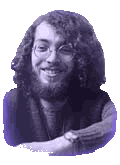 Although several other photographers contributed to the magazine/s on a more or less regular basis, it was Phil, or as Barney Bubbles often called him, Philm, who lived just a few blocks away from the office on Portobello Road and worked out of the darkroom in Barney's basement in the house next door, cooking up album sleeves for the likes of Hawkwind, was more often than not called upon to cover some event or photograph those personalities who visited Friends/Frendz offices from time to time, as was the case with Uschi Obermaier and Abbie Hoffman and many others... Phil's photos of Country Joe McDonald, Pamela Des Barres/Miller and Edgar Broughton were featured on Friends covers.
This website about Friends/Frendz is hosted by Philm Freax and Phil Franks
courtesy of Malcolm Humes and ibiblio.org (formerly known as MetaLab.UNC, formerly Sunsite UNC).
---
The interview texts are from
"Days in the Life: Voices from the London Underground 1961-71" by Jonathon Green,
used here with permission. Any reproduction is prohibited without permission from the author.
Days in the Life excerpts © Jonathon Green
contact: Phil Franks (freax AT philmfreax.com)
Freax/Friends website produced by Malcolm Humes