[History]
See also: important dates in the history of the vessel
Name
The vessel is named after a famous Ostend painter, François Musin.
Based on...
The O.305 François Musin and her sistership O.304 Laermans were based on pré-war vessels. They belonged to the first post-war built trawlers in Ostend.
Post-war
To catch up all the loses of World War II, Beliard and Boel built 7 near-identical trawlers, 5 for Belgian owners and 2 for French owners. These vessels were:
All vessels were paid by the owners. There were no compensations for the loses.
Building
On 28 February 1948 the François Musin was launched at Beliard, Crighton & Company yard in Ostend. The 154 GRT trawler had a 400 HP Sulzer engine, which was replaced several years later, in 1963, by a Lister Blackstone of 495 HP.
Career
Between 1948 and 1956 she sailed for the N.V. Motorvisserij. That year, she was sold to Rederij Boels.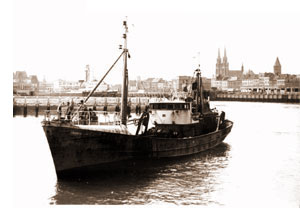 [O.305 Musin entering the Visserijdok, photographer unknown]
They resold the vessel in 1971, one year before she was stricken from the official registers of fishing. The new owner, Juan Guzon Fernandez got the vessel on 29-09-1971. Already on 16-05-1972 she was stricken.
See also: Woman aboard!
In 1950, Edouard Beauprez, felt overboard after all navigation equipment died.