No sooner than I had posted the Economist story below, than did I hear from Luis @elsua Suarez who pointed out that in Spain, mobile is bigger than ADSL AND WhatsApp is greater than SMS AND email.
Verne does the reporting and graphics in Spanish (thanks Google Translate):
Over 64.8% of Spaniards use messaging services and of those 96.4% use WhatsApp. 88.6% of WhatsApp users use the app daily.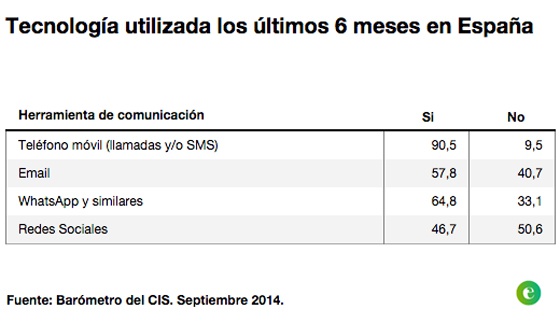 The charts showing the drop in SMS usage and the rise of mobile are very impressive. A lot has happened in Spain in only 5 years.
[Spain] is the European country with the highest penetration of mobile smartphones, with 66% of mobile users, and this year [2014], for the first time in history, the mobile phone has become the main type Internet, overcome the ADSL and cable or fiber.