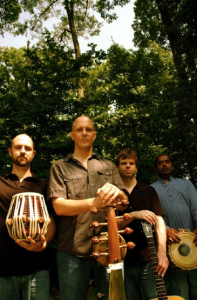 If you ever found yourself wondering what dreams may come if the music of Northern India met that of the American South, consider your wait over: Durham's Hindugrass is here to provide the answer.
If you've ever been curious what their adventurous leader John Heitzenrater has to say for himself…well, Gimme Five's got your back. Check out his answers after the jump.
1. If your band were a family style dinner dish, what kind would it be?
Well, the pithy response would be that we are some sort of curried Brunswick stew or something, but I don't think that would reflect all of our ingredients. Plus it sounds kind of gross. I think we're more that dish you make when you're left with a fridge full of random stuff that doesn't seem like it could ever work together, but that's what you've got, so you come up with some way to work it all together and end up surprised that it isn't all that bad after all.
2. When can listeners expect new material from the band? What do you have up your sleeve?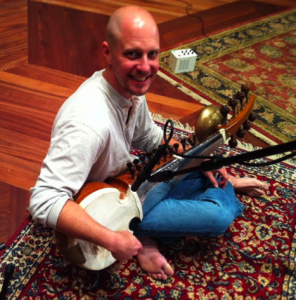 We're actually steadily producing new material all the time. About every show we either have a new piece or a reworking of a mostly new piece with new sections. We have six or seven of the new tunes ready to record for the new album we're working on now, and seeds of the rest of them in various states of germination. Hopefully we'll be done with tracking and mixing by the end of the year, but all of us have other bands, gigs and commitments, so some of the timing will depend on how our various tours and schedules line up. We're also adding new players. Jenavieve Varga has been added on violin to the whole set of material at this point, and we're looking at a few other folks to add as well (as soon as I get parts written for them). We should also have a pretty amazing stable of guest artists on the new CD (that list is still growing), but for now I'm going to keep that list up my sleeve.
3. Describe your ambition.
Back in the heady days of my late 80s prog-rock idealism, I wanted to change the world with my music. Over the years I've realized that it's much more efficient to try to affect change by teaching one person or one classroom of people at a time how to make music a larger part of their world, either by teaching them to play the music they already love or write the music that's in their soul or even just to have a better grasp of the history and function of music in general. There's plenty of music out there already that can change things. I feel lucky to be able to be involved in as many different types of music as I am, and to be able to do only that all day every day, whether it's performing or teaching or composing or recording or producing or whatever, and still not default on my mortgage or starve. For Hindugrass, I'd just like to keep bringing our sound to a wider and wider audience. I have fairly simple needs and prefer living fairly simply, so I guess I'm not targeting coliseum shows or anything, because those would mess that right up.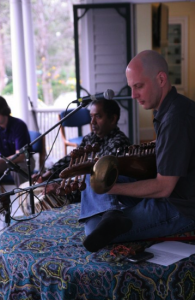 4. Who/what might be a few inspirations or influences that would really surprise people?
I listen to practically everything, and most of it influences me somehow, either in terms of form and structure or melodic ideas and orchestration or even just the timbres of instruments. I think a lot of people, especially musicians, meet me when I'm wearing one particular hat and are surprised when they find out I also wear the classical bassoon hat in addition to the Indian music one or that I have a bunch of extremely dark Roger Waters/Elliott Smith inspired songwriter-type material in addition to the New Music noise-palette overly-intellectual composition work or some other such apparent incongruity. All of that filters into Hindugrass somehow. The most surprising thing we've probably done as Hindugrass is to cover Michael Jackson's "Billie Jean." That was Jay's idea, although he told me later that it was a joke. I took him seriously. We're not allowed to play that anymore, though, because it gets stuck in our tabla player Chris's head for several months afterward.
5. What did you dream of being when you were a kid? (how 'd that turn out?)
My Dad tells me that when I was very young I asked him what kind of a job I could get if I studied music and what kind of a job I could get if I studied ancient Greek philosophy, so I guess I wanted to be either a musician or an ancient Greek philosopher. It turns out that I am not an ancient Greek philosopher.
– – – – – – – – – – – – – – – – – – – – – – – – – – – – – – – – – – – – – – – – – – – – –
Check into Hindugrass homebase for more on the band and where/when you can catch them live. And by all means, give John a high five when you see him!