Writer-Director Rob Underhill
by Margot C. Lester
Filmmaker Rob Underhill's latest project is a "sci-fi featurette" based on the Carrington Event. No, not that first epic catfight between Alexis Carrington and Krystle Carrington on Dynasty – we're talking a full-on solar flare and resulting electromagnetic pulse (EMP) like the preppers have been warning us about.
"In 1859 a tremendous solar flare exploded from our sun, the coronal mass ejection on collision course for Earth," Underhill recounts. "The cloud of charged particles was so powerful that the American telegraph system was sent offline and even set machines on fire. In newspaper accounts people all over the country claimed they could read by the light of the Northern Lights that stretched across the sky all the way to the equator."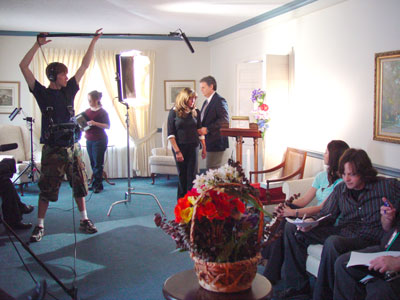 Underhill and Larry Gardner co-wrote The Carrington Event, inspired by a 2005 NASA report predicting that a similar "event" today would be catastrophic.
"What if a solar super-storm as powerful as the historic Carrington Event happened today? We take you there," Underhill explains. "We make it very personal by concentrating on a family on the outskirts of a large Southern town. No electricity. And without electricity there's no water from the tap, no gas from gas stations. All communications go down. Phones do not work, no TVs, no radio signals. The family has to figure out what is happening in time to switch to survival mode. In little time, the all-essentials – food, water, gas – run out or become inaccessible, and a life-and-death struggle is close behind." (Learn more at TheCarringtonEvent.com)
You may know Underhill from one or all of his three films on Emmett Till, two of which – Empty Space and Wolf Call – have won a combined 23 festival awards, including Best Actor and Audience Choice awards at the Carrboro Film Festival. Wolf Call received a 2012 Black Reel Award for Outstanding Short Film nomination. The third, DAR HE: The Lynching of Emmett Till, has won six
Best Film awards on the festival circuit.
"I grew up in Michigan. I knew a lot about Nazi Germany and the persecution of the Jewish populations in World War II. I had never known the story, or that it is considered by some as the 'spark' that ignited the civil rights movement in America," Underhill says of the murder at the center of these works.
Making sure others knew – or didn't forget – was the impetus for the first film. The others were products of the momentum and Underhill's deepening exploration of the story and the people involved in it.
For Underhill, depicting historical events is more than just good storytelling.
"I love telling history because that's the only way to learn and do one's part in helping us not repeat terrible things in human history. It was important for me to do my part in educating a new generation of people. By showing the past actions and consequences, this is how we keep history from repeating itself," he asserts.
That's part of his mission for The Carrington Event too. The film warns about the dangers of an electric-dependant society vulnerable to real solar events that, he says, could be sent back to the dark ages with a strong enough solar super-storm.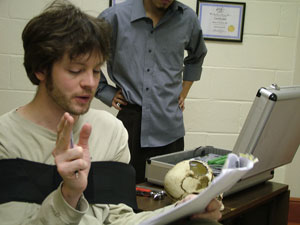 "I was on a radio interview with EMPact Radio recently and the moderator put it like this: We can have all the high-profile scientific panels decree time and again that we need to protect our electric grid from a Carrington Event-like happening, but no action will happen unless the people get behind it. Like it or not, he said, a popular television show will spur action far more effectively than all the top scientists telling us something needs to be done."
Check out Underhill's work, including trailers for all his films, at robunderhill.com
Carrboro Film Festival Deadline
The early-bird deadline for submitting shorts to the Carrboro Film Festival is Aug. 20. The submission fee is $10/film for filmmakers 19 and older and $5 for filmmakers 18 and under. After Aug. 20, rates increase by $5.
Details: bit.ly/Submit2CFF7