By Jason Cole
Newsflash! North Carolina makes great wine. No, not California great, but our state is producing quality wine for any occasion. These aren't scuppernong wines either – these are wines made from Vitis vinifera grapes, European wine grapes like chardonnay and cabernet sauvignon. North Carolina may not win a head-to-head battle with California, but many North Carolina wines will surprise skeptics.
Did you know North Carolina has a history of wine dating back to colonial times? Thomas Jefferson fell in love with viticulture and was determined to find an "American" grape that could produce quality wine. His best wine came from the Catawba grape found mainly in Carolina. The Catawba grape grew to be the most widely planted grape in early America. Planted mainly along the Ohio River Valley, the Catawba grape found its best showing in sparkling wine. It wasn't until relatively recently that European grapes were planted in North Carolina, and most wineries have only been around for a decade. However, North Carolina wine continues to grow and now has three recognized appellations around the Yadkin and Haw rivers.
Late summer and early autumn are the best times to take a day trip to visit some of the wineries along the Yadkin Valley. For one, the fruit is bursting on the vines almost ready to be picked, providing a better scene driving through the hills than fruitless stalks found in the spring and most of the summer. The weather is not too hot and humid either. Visiting the wineries has always been a fun way to escape and relax. It typically costs about $5 to take the tour of a winery and have a sample of a few wines, and usually you get to keep your tasting glass. For extra tastings, you can pay a little more. Here are a few ideas to help you plan a great trip.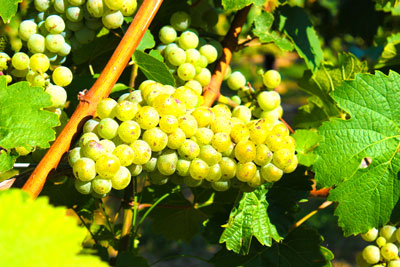 Start your day early gathering a picnic of sliced meats, local cheese and freshly baked bread. A great place to start is North Carolina's largest vineyard, Shelton Vineyards in Dobson, where you should try the cabernet franc. Full-flavored with intense berry fruit, the 2007 vintage is spectacular. Another standout is the Bin 17 Chardonnay. Named after a specific lot in the vineyard, this un-oaked white has striking minerality and a crisp finish. You can also sample the reserve wines, which include a non-vintage sparkling wine that is amazing! After trying the wines, buy a bottle or two and head down to the creek in front of the winery. Grab your picnic and dine al fresco underneath the willow trees.
Next up is McRitchie Winery in nearby Thurmond. While making some terrific wines, this winery also has stunning cider. The McRitchies have played an important part in the development of viticulture in North Carolina, and their knowledge and expertise shows in the quality of their wines and cider. Bring a dessert to pair with their blackberry wine for a delicious last course while enjoying the bucolic view.
As the day draws near its end, head to Stoney Knoll Vineyards back in Dobson for a fantastic view. With Pilot Mountain as a backdrop, the Coe family vineyard sits on farmland that has been in the family for 100 years. Try their viognier for a balanced white reminiscent of North Carolina honeysuckle or their barrel-aged chardonnay for a treat. If you are lucky enough, they may have an ice wine to sample. These powerful yet delicate dessert wines are amazing. Across from the vineyard is a 100-year-old cabin the family has turned into a bed and breakfast. Imagine yourself sipping on a nice glass of wine, rocking in a chair overlooking the vineyard as the sun goes down. It's a perfect end to a great day.
North Carolina has come a long way in the wine world. We may not have the best wines, but we have passionate and innovative winemakers using our land to its potential, and it's good to support them. After a day of traveling around and seeing how beautiful it is, maybe the next time you're thinking of wine, you'll think Carolina.