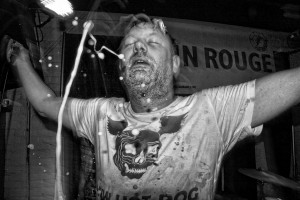 Stapled to a signpost or taped to a window, Ron Liberti's art has long had a finger on the pulse of local music. The relevancy is no easy get given the dearth of screen-printers and graphic design apps. Liberti's work is a step apart, because of talent, sure, but also years of playing and participating in local music. Off and on since 1991, his band Pipe has been palpable force. Destroying stages (sometimes literally) with their no holds barred punk, Pipe is a fury of howling riffs, blustering drums and front man histrionics.
Sure, Liberti and his crew have things figured out, but can this artist ans showstopper handle our five questions? See for yourself after the jump.
1. If your band were a weapon, what kind would it be?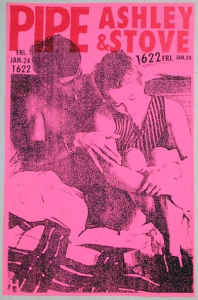 One of those guns that says " Bang " when you shoot it. Chuck said that, he's " the funny " one.
2. What's the strangest show/venue you've ever played?
Probably a laundromat in Cincinnati and the biggest drag was that I lugged a bag of dirty clothes all the way there and they wouldn't let us do any loads ! They had to cover the machines with plastic or some bullshit . Thanks Sudsy's ….. NOT ! We also played a laundromat in Carrboro with the Archers (?) and Psycho Acoustic Research and Development . Hmm , maybe it wasn't that strange after all.
3. Describe your typical band practice.
Pretty no nonsense these days, a little catching up, work on a new song or two , sports talk , t.v. talk, some politics, dirty:30 for a bit, asking Google to remember things for us like Curtis Mayfield's name or who played the first Darren. Then we Rock!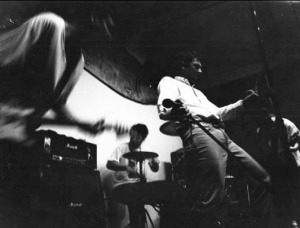 4. Who/what might be a few inspirations or influences that would really surprise people?
Frank Sinatra, Mister Rogers and Martha Stewart.
5. What did you dream of being when you were a kid? (How 'd that turn out?)
A sign painter or baseball player and I think it turned out pretty well, my posters are my signs and my band is my team. I also liked the idea of hanging out with buds at the Quickie Mart parking lot, sucking 40's out of brown paper bags, that seems to be working out pretty well too.
– – – – – – – – – – – – – – – – – – – – – – – – – – – – – – – – – – – – – – – – – – – – – – – – – – – – – –
Keep an eye out for your next chance to catch Pipe live. And, by all means, give Ron a high five when you see him!