Actor-Writer-Director Profile: Clark Gregg
by Margot C. Lester
Former Chapel Hillian Clark Gregg is on the TV a lot right now. The New Adventures of Old Christine is now in syndication, and he and his wife, last season's Dancing with the Stars champion Jennifer Grey, co-star in Road to Christmas, a Lifetime movie in heavy rotation during the holidays.
"We didn't realize when we took that project that it would become a staple," Gregg laughs sheepishly.
Renaissance Man
Gregg's talent surfaced when his homeroom teacher at Chapel Hill High dared him to audition for Plaza Suite. Gregg got the part. That led to other roles and his selection as a co-host of the annual Junior Follies student revue. The emcees wrote and directed skits they performed between acts.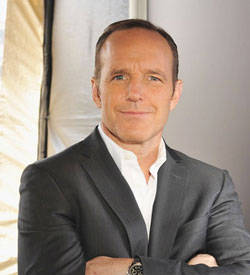 "It was a weirdly prescient moment of my future," says Gregg, a "true hyphenate" in entertainment terms. Today, he's a stage and screen actor (Iron Man, Thor, The Adventures of Sebastian Cole), a screenwriter (What Lies Beneath) and a director. He did all three for Choke, which was nominated for the Grand Jury Prize and won the Special Jury Prize at Sundance in 2008, and he'll reprise the trifecta for his next film, Trust Me, starting production this month.
"I like to keep busy," Gregg deadpanned on a recent visit back to Chapel Hill. But his versatility has kept him in "the business" for 20 years. When he wasn't getting parts, he was writing screenplays or performing in or directing stage productions. "It was brutal for years," he admits. "But I found something I wanted to do and stuck to it."
Team Player
After graduating from CHHS in 1980, Gregg was "delusionally intent" on playing professional soccer or being in a band. At Ohio Wesleyan, he injured his thumb – "bad news for a goalie" – and soon after, he headed for New York, playing in and going to see bands. He funded it all by working as a guard at the Guggenheim or parking cars. But acting continued to tug at him.
"I got tired of starving, and decided to apply to NYU," Gregg relates. He did, ending up in a class taught by Pulitzer Prize-winning playwright David Mamet, where he befriended actors William H. Macy and Felicity Huffman. The three later founded the Atlantic Theater Company, where Gregg is now in residence, appearing in the world premiere of Ethan Coen's Happy Hour, a work of three one-act comedies.
The three actors work outside the ATC too. Macy and Gregg have been in several films together, including the Mamet-directed State and Main; Huffman (who's also in Trust Me) and Gregg played opposite each other in the final two episodes of the critically acclaimed but short-lived Sports Night, created by another friend, Aaron Sorkin. Gregg's role as The Stranger "really popped" with viewers, who remain some of his most passionate fans.
That's vintage Gregg, who's a master at creating indelible characters, even out of smaller parts (see also Agent Michael Casper in The West Wing). But his knack for making a major impression is most evident in his turn as Agent Phil Coulson in Iron Man. Coulson was an instant fan favorite, and Gregg was asked to reprise the role for Iron Man 2.
"Agent Coulson is someone people connect to, a grounding force among all the superheroes," Gregg explains. "He's the regular guy who's a little snide and sarcastic in the face of, say, a raging monster."
Marvel took notice, recently making Agent Coulson a franchise player who has appeared in Thor and The Avengers, out next year.
'Chapel Hill Boy'
Though he works frequently in New York and lives in Los Angeles with Grey and their daughter, Stella, Gregg holds out hope that at some point he'll pick up a gig in North Carolina.
"It's sad, but I've only been in one production in North Carolina, The Young Indiana Jones Chronicles, produced in Wilmington, and that was 18 years ago," he laments. "I'm going to get a job there some day if it kills me. I'm a Chapel Hill boy from back when there was only one high school, and I'll always consider myself a native of the Southern Part of Heaven."