Charles Deemer
Audio
hyperdrama/plays/screenplays/fiction/essays/poems/video/home/bio
---
NEWEST: Ukulele studies.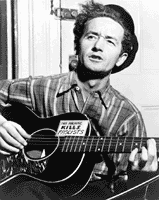 New York World Telegram and Sun Collection, Prints and Photographs Division. Reproduction Number: LC-USZ62-120588.
Ramblin': the songs and stories of Woody Guthrie
Performed by Charles Deemer (vocals, journals, 12-string guitar, harmonica) and Jim Wylie (vocals, 5-string banjo, 6-string/lead guitar).
For best quality, download .WAV files:
Or hear now in RealAudio:
Also see: Bound for Glory: the Life and Times of Woody Guthrie, presented by the Museum of Musical Instruments in cooperation with the Smithsonian Institute. This is an online complement to the Smithsonian's outstanding traveling Guthrie exhibition, which I was fortunate to see in Tacoma, Washington.
---
Dark Mission, an opera: the MIDI files.

Harriet's movie reviews:

Sheet music, a variety of original songs to hear.

Real Audio Screenwriting Tips.
One of the more popular features of my original website for screenwriters (1994-2001). Some tips are now dated, some not.
Phone Plays, very short audio plays.
Songs on the front porch, pickin' & singin'.
Other:
---