[ Top]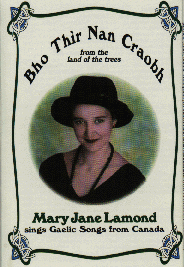 Màiri Śne Lammond
Bho Thir Nan Craobh
Copyright (C) 1994 B&R Heritage Enterprises
Almost all of the songs that Màiri Śne sings on this album are from the oral Gaelic tradition of Cape Breton. All, that is, except the very first song from Ontario, which provides a fine illustration of the fact that Gaelic in Canada was by no means confined to Cape Breton and Eastern mainland Nova Scotia, but was found in areas all acros the country.
Na h-Orain
O, Tha mise Fo Ghruaimean
Air Faillirinn Iu
Cagaran Gaolach
Domhnaill Antaidh

A Chuachag Nam Beann
He Mo Leannan
Bodach Beag A Loinean
Ho Ro 'S Toigh Leam Fhin Thu
Cha Bhi Mi Buan
Ba Ba Ba Mo Leanabh
Piuirt-a-beul
Dh'Olainn Deoch A Làimh Mo Ruin
Oran Gillean Alasdair Mhoir
Lyrics are included for all songs.
Short version of Dan Do Shean Ford

Short version of Domhnaill Antaidh

Ordering Information
Contact B&R Heritage Enterprises to order this fine tape as well as to find out about all the gaelic materials they have to offer.
To the Gaelic Homepage